You may have come across silicone or wooden teethers, but have you tried edible teethers for your young ones yet?
Most babies start teething around 6 months, which is also usually when mothers transition their babies to solid foods. During the teething period, infants and toddlers often experience irritability and discomfort. Silicone or wooden-based teethers are commonly available to help relieve these teething symptoms. Some mothers also use food options like carrots as an alternative. Early research has shown that children are significantly calmer and happier, less stressed, and marginally less cranky after using edible teethers. While the texture helps soothe the gums, a child also gets the taste and nutrients of the edible content.

Early Foods has introduced edible teething sticks in 3 different flavours and for the purpose of this article, we'll focus on their Organic Wholewheat Ajwain Sticks. These sticks that help soothe the gums & double up as finger food are recommended for little ones who are ready for all grains & nuts. Other than the ajwain sticks, one also has the option to try other flavors – ragi & sesame and millet & sesame. These sticks are quite handy and travel-friendly, and can be enjoyed by adults too!
What makes these teething sticks a great choice?
Chemical free – no raising agents, soda, additives, preservatives or artificial flavours
Made from organic whole wheat flour – no maida!
Vegan
No added refined sugar – sweetness from jaggery & dates
Can be used to help soothe gums for children or as finger food for all age groups
Remember that
The child should be sitting upright and be supervised by an adult while consuming the sticks, to avoid the risk of choking
The sticks contain gluten and nuts, and therefore should be avoided by children with gluten or nut allergies
Let's decode the packaging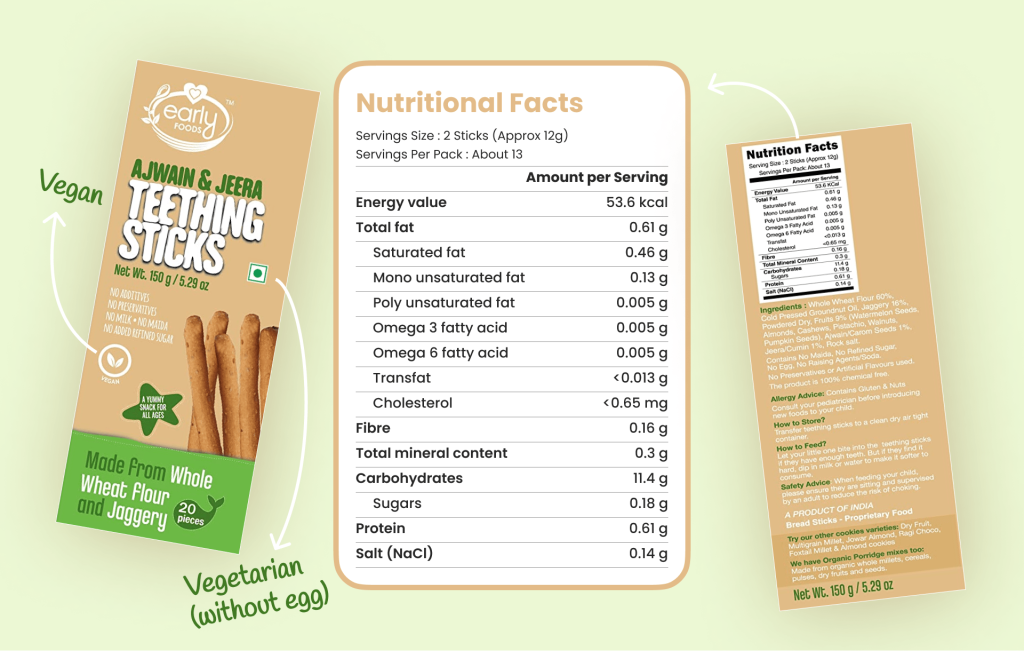 Ingredients: Whole Wheat flour 60%, Cold Pressed Groundnut oil, Jaggery 16%, Dry Fruits 9% (Almonds, Pista, Cashews, Dates, Walnuts, Watermelon Seeds, Pumpkin Seeds), Ajwain (Carom) Seeds, Jeera (Cumin), Rock Salt
Shelf life & storage: Best before 4 months from manufacturing. Once opened, transfer the teething sticks to a clean dry air-tight container & consume them within 1 month.
Feeding Instructions: Let your little one bite into the teething sticks if they have enough teeth. But if they find it hard, dip it in milk or water to make it softer to consume
Shyft Opinion
Early Foods' teething sticks are now a great option that can be added to frozen foods and vegetables like carrots that are commonly used as edible teethers in households for children to help with gum irritation.
Brand Note
Early Foods was started in an effort to make snacks without any additives and harmful substances so parents can give their children everyday snacks happily and guilt-free.