Looking for easy ways to incorporate vegan friendly protein in your diet? Try "tempeh" by Hello Tempayy, made by fermenting whole non-GMO soybeans.
Alternate and plant based protein options are increasing in popularity, and one such option is tempeh. As an easy addition to a variety of recipes, tempeh adds great nutritional value, especially for those who are vegan, lactose intolerant or allergic to gluten, and face difficulty in meeting their daily protein requirements.
Hello Tempayy has brought this traditional Indonesian food product to the forefront in its natural form and a variety of flavoured forms. For the purpose of this article, we shall focus on their product – Natural Tempeh Cubes.
Why tempeh needs to be part of your diet?
High in protein – 19 grams of protein per 100 gms
Gut friendly & easy to digest – the high fibre content and fermentation of soybeans add to the nutritional value of tempeh that makes it a great option for the gut
Rich in micronutrient profile – tempeh is packed with Vitamin B12 & iron, and contains other minerals like magnesium, phosphorus & manganese
Dairy & gluten-free – making it a great option for those who are vegan, lactose intolerant or gluten intolerant
Can be added to any recipes made at home as a protein, similar to paneer or tofu
Remember that
Tempeh Requires refrigeration at 0-4 degrees (mentioned on the packaging). However, before cooking, if not thawed correctly, it can lead to loss of texture or/and not cooking properly.
The product claims to have no added preservatives or additives. However, as with all packaged foods, if one has a choice, we suggest opting for a fresh option. Having said that, we all sometimes need quick & easy fixes to cover our nutritional needs, and that makes Hello Tempayy a fine choice indeed.
Who should avoid this product
Anyone with an allergy to soy
Anyone with hyper/hypothyroidism should avoid soy or consume it in moderation after consulting with their nutritionist
For anyone with hypertension, while it's safe to consume the Natural Tempeh Cubes since the ingredients already include iodised salt, we recommend avoiding adding additional salt to your recipes.
Anyone in their Prenatal or Postpartum journey should consult their doctor and nutritionist before consuming tempeh
Let's decode the packaging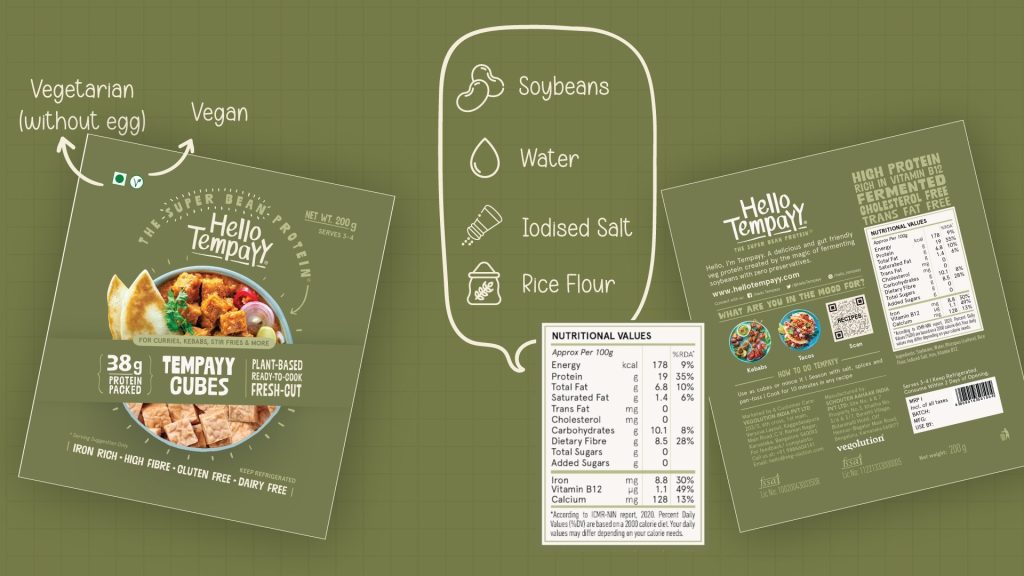 Ingredients include Rhizopus – an edible & safe starter culture or fungus, which helps kickstart the fermentation process, making tempeh easy to digest.
Nutritional Values Label per 100 gm serving (note that the package itself is 200 gms). To calculate energy, proteins and carbs are multiplied by 4 and fat is multiplied by 9 :

Protein * 4 = 19*4 = 76 kcals
Carbs * 4 = 10.1*4 = 40.4 kcals
Total Fat * 9 = 6.8*9 =61.2 kcals
Therefore, the total energy available from a 100gm serving is 177.6 kcals, which covers about 9% of the average daily requirement for most people

The carb and fibre content is obtained from rice flour and soybeans
There is no added sugar in Natural Tempeh Cubes
Storage instructions: to be refrigerated at a temperature of 0 to 4 degrees Celsius. The transportation of this product from its manufacturing unit is also done in cold storage.
Shyft Nutritionist's opinion
Since the product is dairy & gluten-free, it's a great option for anyone who's following a vegan diet or is lactose intolerant
From Siddharth Ramasubramanian, CEO & Founder, Hello Tempayy
For us, at Hello Tempayy, bridging the protein gap in India starts with offering new and tasty protein choices. And Tempeh is this new and exciting food that's protein-rich, versatile and easy to cook. The three things we all need in a kitchen.
In conclusion, incorporating tempeh into your diet is a great way to increase your protein intake, and Natural Tempeh Cubes by Hello Tempayy offers a natural and flavourful option for those looking to try this versatile ingredient.