Bringing traditional nutrient packed ingredients to serve breast-feeding mothers
Exclusive breastfeeding is probably the simplest way for infants to meet all of their nutritional needs in the early months. It helps provide essential nutrition for a baby's growth & development, and helps build immunity – providing protection from various infections and diseases.
The World Health Organization recommends exclusive breastfeeding for about the first 6 months, with continued breastfeeding along with introducing appropriate complementary foods for up to 2 years of age or longer. However, a large number of new mothers tend to stop exclusive breastfeeding sooner due to lifestyle factors, lack of awareness, lactation-related concerns or/and not having enough breastmilk supply.
Diet intake has a direct impact on the quality and quantity of breastmilk supply. With a large number of new moms working or living in nuclear families with minimal support, committing to self-care & ensuring wholesome nutrition intake is often compromised. Lactation bars such as Lactobites by Nutrizoe, can be a convenient, go-to option in such cases.
Why should you try Lactobites?
These bars contain "galactagogues", such as fennel, fenugreek, gondh, shatavari and other plant compounds that aid in increasing milk production.
Convenient & easy option to fulfill nutritional needs of lactating mothers
These bars are doctor recommended, making it a trusted option for mothers.
Who should avoid this product
Allergens include milk products and tree nuts and the bars are processed on machinery that also processes peanuts, tree nuts, sesame, soy and dairy products. This makes the bars unsuitable for those with soy, dairy & nut-related allergies
Those suffering from prolonged high bp post delivery should be mindful of the sodium content in these bars, to ensure it does not exceed the daily recommended allowance.
Women with low blood pressure should consult their healthcare professional before consuming, as these bars contain cinnamon, which helps improve blood flow and may further lower one's blood pressure
Not recommended for women suffering from diabetes, since it contains honey
Those suffering from hypo/hyperthyroidism should consult their healthcare professional before consuming, since allergens include soy, which is known to interfere with production of the thyroid hormone.
Let's decode the packaging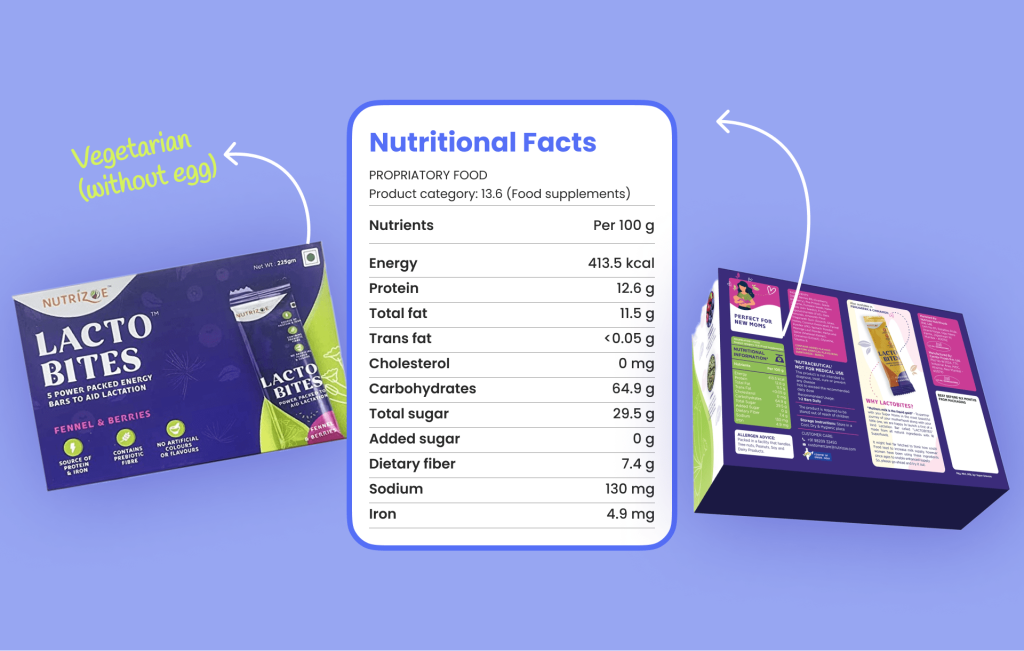 Ingredients :

An intriguing observation about Lactobites is that its components closely resemble those found in the conventional homemade laddoos, which are also galactagogues. Galactagogues are molecules that facilitate milk production & its sustenance, and various studies have established the benefits of galactagogues for breastfeeding mothers.
Fructooligosaccharides (FoS) are a prebiotic plant sugar that can be obtained naturally from fruits and vegetables or can be synthesized chemically. It is a form of soluble fibre and helps in promoting good bacteria in the gut.
Nature Identical Flavoring Substance – Berries is a food additive that is chemically identical to the naturally occurring flavor compounds found in foods. Such additives are generally considered safe for human consumption by regulatory agencies.

Regulatory stamp :

FSSAI – a food safety certificate issued by the food authority of India
NABL – National Accreditation Board for Testing and Calibration Laboratories, fully safe for mothers and babies
Shyft Nutritionist's opinion
These bars are filled with the richness of wholesome nutrition that can be helpful to improve lactation supply & being doctor-recommended is an added plus!
From Richa Pendake, Founder & CEO – Nutrizoe
Women are the backbone and catalyst of any house but seldom find time to do something for themselves. I wanted to create a brand that caters to women and offers an easy solution to all their health problems. We aim to ride along a women's journey, offering holistic and nutritious solutions. Our first product 'Lactobites – Lactation Aiding Bars', is a testimony of our efforts.
Mommyhood & postpartum recovery is not an easy journey to take and any form of support goes a long way in ensuring optimum nutrition and care for both the mother and baby. Lactobites by Nutrizoe includes all the nutritional elements and goodness, aiding in improving breast milk supply and helping mothers with the most basic care for their babies – ensuring good feed.