Gout is a type of arthritis caused by high levels of uric acid in the blood, leading to the formation of urate crystals in the joints. While medication can be effective in managing gout symptoms, some people prefer to explore natural remedies. Yoga is one such remedy that is beneficial for managing gout symptoms. Even when we talk about high uric acid and other comorbidities, yoga can be very beneficial in helping you maintain a healthy lifestyle, for example, diabetes and high blood pressure can be regulated through yoga. In this article, we'll explore how yoga can help lower high uric acid levels and alleviate gout symptoms.
Understanding the Connection between Yoga and Gout
To enhance general health and well-being, yoga is an age-old discipline that incorporates physical postures, breathing exercises, and meditation. Yoga is beneficial for managing various health conditions, including gout. A study published in the International Journal of Yoga Therapy found that yoga can help reduce inflammation and pain in gout patients by improving blood circulation and reducing stress levels.
Yoga Poses for Lowering High Uric Acid Levels
Certain yoga poses can be particularly beneficial for lowering high uric acid levels and reducing gout symptoms. Here are some of the most effective poses to try:
Downward-Facing Dog Pose (Adho Mukha Svanasana): This pose stretches the hamstrings, calves, and spine, while also improving blood circulation to the joints.
Warrior II Pose (Virabhadrasana II): This pose strengthens the legs and hips, while also improving balance and stability.
Bridge Pose (Setu Bandhasana): This pose stretches the chest, neck, and spine, while also strengthening the legs and buttocks.
Camel Pose (Ustrasana): This pose stretches the entire front of the body, including the chest, abdomen, and thighs, while improving digestion and reducing stress.
Corpse Pose (Savasana): This pose involves lying flat on your back with your arms and legs extended and is used as a relaxation pose at the end of a yoga practice. This pose can help reduce stress and anxiety, which can contribute to gout symptoms.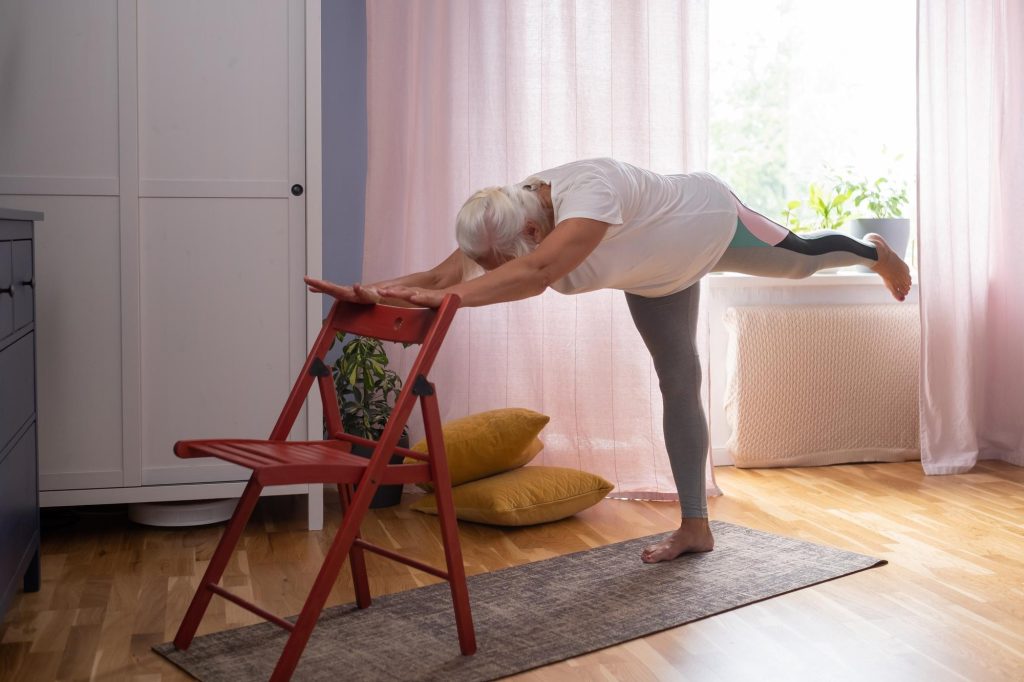 Yoga Breathing Techniques for Gout
In addition to yoga poses, certain breathing techniques can also be beneficial for managing gout symptoms. Deep breathing, or pranayama, can help reduce stress levels and improve blood circulation, which can in turn help lower high uric acid levels. Here are two breathing techniques to try:
Kapalabhati (Skull-Shining Breath): This breathing technique involves forceful exhalations through the nose, followed by passive inhalations. Kapalabhati can help increase oxygenation and blood flow, which can help alleviate gout symptoms.
Nadi Shodhana (Alternate Nostril Breathing): This breathing technique involves inhaling through one nostril while closing the other nostril with your finger, then exhaling through the opposite nostril while closing the first nostril. Nadi Shodhana can help balance the nervous system and reduce stress levels, which can contribute to gout symptoms.
Conclusion
Yoga can be a beneficial natural remedy for managing gout symptoms and lowering uric acid levels. By practising yoga poses and breathing techniques regularly, gout sufferers may be able to reduce inflammation, pain, and stress associated with their condition. It's important to remember, however, that yoga should be used in conjunction with medical treatment and under the guidance of a qualified yoga instructor. If you have any concerns about practising yoga, it's best to consult with your doctor before beginning any new exercise routine.