Are you ready to discover how mindful eating can make your gut bacteria do the happy dance and transform you into the superhero of your own health story?
When it comes to maintaining a healthy gut, what you eat is just as important as how you eat it. Mindful eating, the practice of paying attention to your food and how it affects your body, can have a positive impact on your gut health.
According to a study, mindful eating can improve digestive symptoms, reduce inflammation, and increase beneficial gut bacteria. In fact, 95% of our serotonin, a neurotransmitter that affects mood and behavior, is produced in the gut, so it's no wonder that a healthy gut is essential for overall well-being.
So, what exactly is mindful eating?
Mindful eating is a way of eating that involves paying close attention to the food you're consuming, the sensations you experience while eating it, and the effect it has on your body. It's about being present in the moment and fully engaged in the act of eating, free from distractions and other external factors.
When you eat mindfully, you're taking the time to savour each bite and experience the texture, taste, and aroma of your food. You're also paying attention to your body's hunger and fullness signals, so you know when to stop eating and avoid overeating.
This practice can have a significant impact on your gut health, as it can help reduce digestive symptoms and inflammation while increasing beneficial gut bacteria. In addition, mindful eating can also help you develop a healthier relationship with food, be free from guilt and shame, and promote a more positive body image.
Overall, mindful eating is a simple yet powerful way to improve your physical and mental health, so why not give it a try and see what benefits you can reap?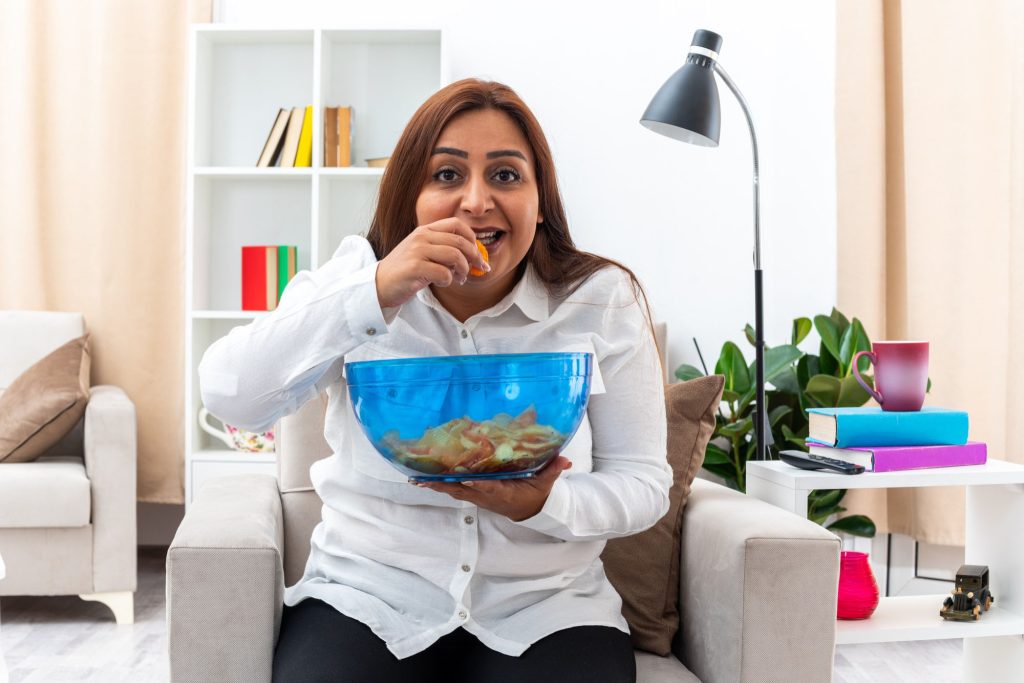 Here are some unique pointers on how to eat mindfully:
Start with a moment of gratitude: Before you start eating, take a moment to appreciate the food in front of you. Think about all the hard work that went into growing, harvesting, and preparing it.
Engage all your senses: Pay attention to the smell, texture, and taste of your food. Try to identify all the different flavours and spices.
Chew slowly and thoroughly: Aim for 20-30 chews per bite. This will help your body digest the food more easily and prevent overeating.
Fun fact: Did you know that the average person chews each bite of food only 5-10 times before swallowing? This can lead to indigestion, bloating, and other digestive issues.
Take breaks: Put down your fork and take a few deep breaths throughout your meal. This will help you slow down and tune in to your body's hunger and fullness signals.
Avoid distractions: Turn off the TV, put away your phone, and focus on the meal in front of you.
Takeaway
Incorporating mindful eating into your daily routine can take some practice, but it's well worth the effort. Not only will it improve your gut health, but it can also lead to a greater sense of satisfaction and enjoyment from your meals.