Sticking to a healthy diet can be challenging, especially when dining out. With the availability of delicious yet unhealthy options on restaurant menus, it can be tempting to indulge in your favourite dishes. However, with a little planning and mindfulness, it is possible to enjoy a nutritious meal while dining out. Here are some tips on how to stick to a healthy diet when eating out.
Choose the Right Restaurant
When it comes to dining out, choosing the right restaurant can make all the difference in sticking to a healthy diet. Look for restaurants that offer healthy options or have a focus on fresh, whole ingredients. Many restaurants now have menus that cater to specific dietary needs, such as gluten-free, vegetarian, or vegan. Additionally, you can research the menu beforehand and choose dishes that are lighter and more nutrient-dense.
Plan Ahead
Before you head out to eat, plan ahead and think about what you want to order. Many restaurants now have their menus available online, which allows you to peruse the options and make an informed decision. If you are unsure of what to order, ask your server for recommendations or modifications to make the dish healthier.
Don't Skip Meals
One common mistake people make when dining out is skipping meals to "save up" for a big meal. This can lead to overeating and choosing unhealthy options due to hunger. Instead, eat a healthy, balanced meal before going out to eat. This will help you feel satiated and make better choices when it comes to ordering.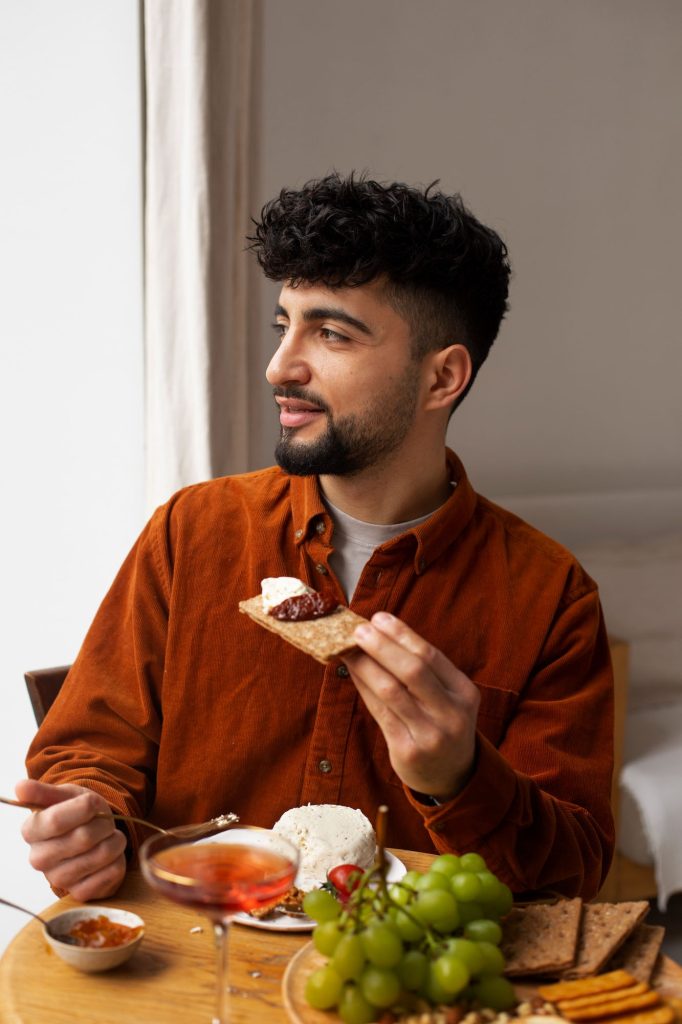 Watch Your Portions
Restaurant portions are often much larger than what we would eat at home. To avoid overeating, ask for a smaller portion or take half of your meal home with you. Many restaurants offer the option to order half portions or have smaller plates available. Additionally, you can share a dish with a friend or family member to cut down on the amount of food you consume.
Avoid Fried and Processed Foods
Fried and processed foods are often high in calories, unhealthy fats, and sodium. These types of foods can increase your risk of heart disease, diabetes, and other health problems. When dining out, try to avoid dishes that are fried or heavily processed. Instead, opt for dishes that are grilled, baked, or roasted. Look for dishes that are made with fresh, whole ingredients and avoid those that contain added sugars, preservatives, or artificial ingredients.
Choose Beverages Wisely
Many restaurant beverages are high in calories and sugar, which can quickly add up and sabotage your healthy eating goals. Instead of ordering sugary drinks like soda or juice, opt for water, unsweetened tea, or sparkling water with a splash of fruit juice. If you are going to have an alcoholic beverage, limit yourself to one drink and choose options that are lower in sugar and calories, such as a glass of red wine or a vodka soda with lime.
Ask for Modifications
Many restaurant dishes can be modified to be healthier. Ask your server if you can make substitutions or modifications to the dish, such as swapping out a side of fries for a salad or requesting that your dish be prepared with less oil or salt. Don't be afraid to speak up and ask for what you want, as most restaurants are happy to accommodate their customers' requests.
Be Mindful
Eating mindfully is key when it comes to sticking to a healthy diet. Take your time and savour each bite of your meal, paying attention to the flavours and textures. Avoid distractions, such as your phone or the television, and focus on your meal. Listen to your body's hunger and fullness cues, and stop eating when you feel satisfied. Eating mindfully can help you make better choices and avoid overeating.
Takeaway
Dining out does not have to mean sacrificing your healthy eating habits. By choosing the right restaurant, planning ahead, watching your portions, avoiding fried and processed foods, choosing beverages wisely, asking for modifications, and being mindful, you can enjoy a nutritious meal while dining out. Remember, it's all about balance and making smart choices. Don't deprive yourself of your favourite dishes, but rather make healthier choices when possible and enjoy your meal in moderation. With a little effort and mindfulness, sticking to a healthy diet when dining out is achievable.