Tired of the fad diets floating around in the market? Fed up with hearing different methods of weight loss being advertised without any health significance? Looking for a sustainable diet to lose weight and also become a healthy and satisfied person? You've come to the right place! We are here with one of the most popular and nutritious diets. But don't let us convince you! Read about its benefits and decide for yourself.
What is the Dash Diet?
Dietary Approaches to Stop Hypertension popularly known as the DASH diet is a healthy eating programme, created to help treat or avoid high blood pressure.
This regimen goes beyond the usual low-salt approach. The diet is characterised by foods high in potassium, calcium, and magnesium. These minerals aid in blood pressure regulation. Foods that are rich in sodium, saturated fat, and added sugars are restricted in the diet.
The DASH diet can reduce blood pressure in as little as two weeks, according to studies. LDL or "bad" cholesterol levels in the blood can also be decreased by this diet. Remarkably, both individuals with high blood pressure and those who are healthy have reduced blood pressure after following the DASH diet.
Two key risk factors for heart disease and stroke are high blood pressure and high LDL cholesterol values both of which are tackled successfully by the dash diet.
The DASH diet promotes the development of a flexible, balanced eating pattern that is conducive to cardiac health. It's simple to follow using groceries from your local markets.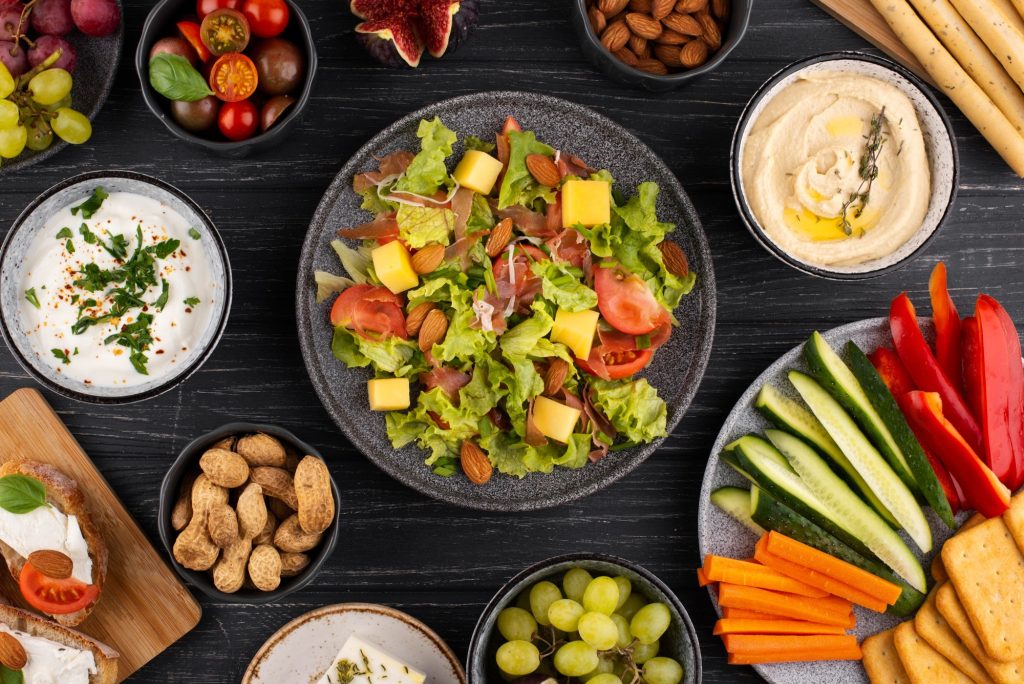 What to Eat on the Dash Diet?
The DASH diet is high in fruits, whole grains, and veggies. Dairy items with no or little fat, seafood, poultry, beans, and nuts are all included.
It prohibits foods rich in saturated fat, such as fatty meats and whole milk, from being consumed.
When adhering to DASH, it's crucial to select meals that are rich in protein, fibre, calcium, magnesium, and potassium. The meals should have minimal total fat and less salt
Dash Diet and Weight Loss
People may discover that they naturally cut back on their calorie consumption and lose weight when following the DASH diet because it excludes so many high-fat, sugary foods. Following a calorie deficit on the dash diet( i.e cutting at least 500-750 calories a day while following the dash diet ) will aid in effective weight loss.
To lose weight while adhering to the DASH diet, consume lots of Fruit and veggies without grainsReasonable amounts of dairy goods that are low-fat or fat-free, whole oats, Lean chicken, beans, soy products, eggs, and egg substitutes, Fish, seeds and nuts and Heart-healthy lipids like avocados or olive and canola oil can be consumed.
Sweets and drinks with added sugar, Saturated-fat-rich foods including full-fat dairy, fatty meals, tropical oils, and the majority of packaged munchies, alcohol, etc must be restricted.
Take Away
You will receive all the nutrients you require by following this regimen. It is safe for both parents and kids. It is a suggested eating pattern for everyone because it is low in saturated fat and high in fibre.
You'll most likely consume a lot more fruits, vegetables, and whole grains if you follow the DASH diet eating plan. These foods are rich in fibre, so if you suddenly increase your intake, you risk experiencing gestational discomfort. Increase your daily fibre intake gradually, and make sure to consume plenty of fluids.