Have you ever wondered how the hunter-gatherers had so much energy to live in all extreme conditions and thrive? Do you want to experience the benefits of the diet they consumed before modern farming emerged? The paleo diet, as it is called in the nutrition zone, consists of foods that individuals could obtain by hunting and gathering in the past.
What is the Paleo Diet?
The Paleo diet is essentially a keto diet but packed with all the benefits that you can get from fruits and vegetables. Paleolithic, Stone Age, hunter-gatherer, and caveman diets are additional terms for the paleo diet.
This diet is based on the premise that modern farming products are not suited for consumption by the human body. Foods like grains and legumes became more widely accessible as a result of farming. It also included dairy products such as cheeses and milk. Additionally, farming altered the diets of the animals humans consumed. According to theorists, these dietary shifts have eclipsed the body's capacity to adjust or adapt. Today's problems with obesity, diabetes, and heart disease are thought to be caused in part by these changes.
The Paleolithic Period starts at about 2.5 million and extends up to 10,000 years ago. An eating regimen called a "paleo diet" is based on foods that people may have consumed during the Paleolithic Age.
Fruits, vegetables, lean meats, seafood, eggs, nuts, and seeds are all part of a modern paleo diet.
It excludes items that rose in popularity as small-scale farming got underway some 10,000 years ago such as dairy products, cereals, and legumes.
What to Eat
What to Avoid
Fruits: apples, bananas, oranges,
Vegetables: broccoli, onions, carrots, tomatoes
Nuts and seeds
Eggs: whole eggs
Lean meats: lamb, chicken, turkey
Fish: salmon, mackerel and tuna
Oils: olive oil, walnut oil, avocado oil
Salt and spices: sea salt, garlic, turmeric, rosemary
Grains: wheat, oats, barley
Legumes: beans, lentils, peanuts
Dairy products: milk and cheese
Starchy vegetables: corn, jicama, peas and white potatoes
Highly processed foods: chips or cookies
Sugar: soft drinks, fruit juices, table sugar, candy, pastries, ice cream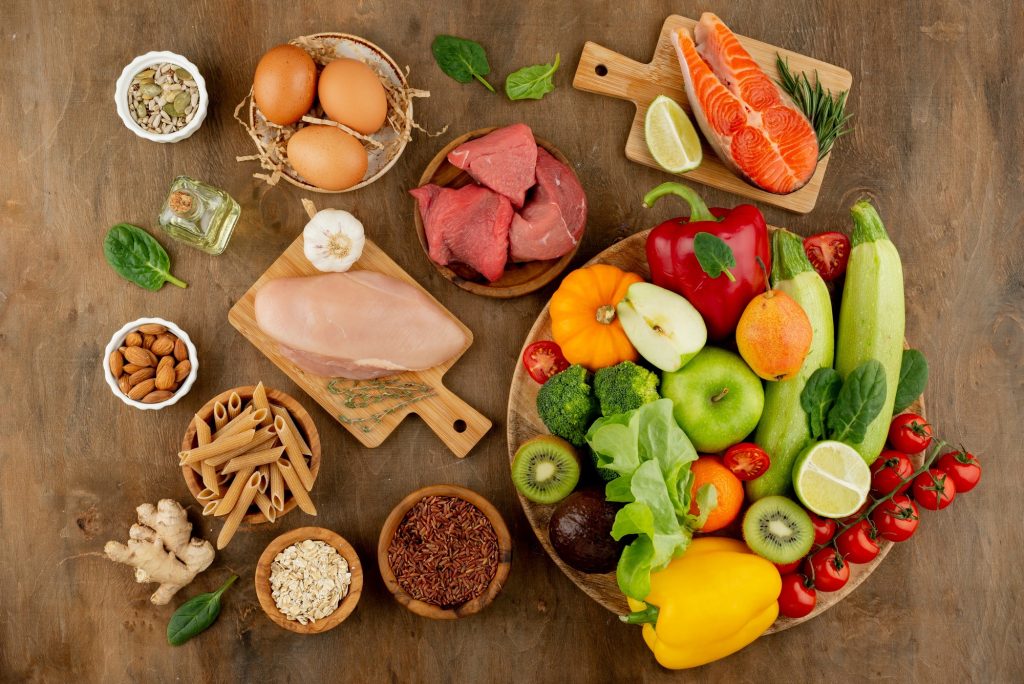 Benefits of The Paleo Diet
A paleo diet generally has many characteristics of healthy meals. The paleo diet is characterised by its focus on fresh produce, lean meats, and minimal use of processed foods.
Preliminary research indicates that a paleo diet could assist with the Loss of weight
Management of blood pressure and Cholesterol.
Researchers discovered that reduced risk factors for cardiovascular disease or heart disease were associated with the paleo diet. The reduced risk was primarily due to increased consumption of fruits and vegetables and avoidance of highly processed foods like chips and candy.
The palaeolithic diet also involves getting in touch with your food. You will start to recognise and appreciate where your food is coming from and how is it reaching your table. It hence helps to improve your relationship with food and can help you to practise Mindful Eating which is a long-term sustainable habit to maintain a healthy lifestyle.
Dangers of the Paleo Diet
The danger of following a paleo diet is that you might not get all the nutrients that are required.
The absence of whole grains and legumes in paleo diets is the primary cause for concern. These foods are regarded as excellent providers of protein, fibre, vitamins, and other nutrients.
Low-fat dairy products are also an excellent source of protein, calcium, vitamins, and other nutrients which are not part of this diet.
Additionally, compared to foods like wildlife, nuts, and animals; whole grains, legumes, and dairy are typically cheaper and more accessible.
A paleo diet might be too expensive for some individuals or the price of some paleo foods might unintentionally result in receiving less of some crucial nutrients.
Take Away
The paleo diet is based on the eating habits that hunter-gatherers are thought to have had. The fundamental tenet of the paleo diet is to stay away from processed foods and place an emphasis on nutritious, whole foods. You might be able to maintain or drop weight on a paleo diet. It might also have additional beneficial health benefits. Make sure you take in all the fibre you can get from fruits and vegetables because although the paleo diet focuses on healthy food it does cut out certain nutrients that are very important.