The world today moves at a brisk pace. Sometimes catching up can get overwhelming, especially if you have ADHD (Attention Deficit Hyperactivity Disorder). Medicines (under a Doctor's supervision) and therapy are the way to go, but if you truly want to enhance their impact and understand how your brain functions, practicing mindfulness meditation techniques can be immensely helpful.
What is mindfulness?
The concept of mindfulness is very simple to understand. It is the ability to be aware of where you are and what you are doing, without letting the surroundings overwhelm you. While it sounds and in theory is actually very easy, we often tend to get lost in a maze of obsessive and intrusive thoughts that make us lose awareness of ourselves.
How does mindfulness benefit people with ADHD?
Let's put it this way: Just like jogging is a workout to keep your body in shape, mindfulness is an activity to keep your brain fit and healthy. It is a wellness practice for the mind with a host of benefits. 
Allow us to break it down for you:
Decreased rate of automatic response: Mindfulness is a practice that involves non-judgmental observation of one's thoughts. With regular practice, mindfulness can help reduce impulsive responses to external stimuli.
Neuropsychological impact: Research has shown that continuous practice of mindfulness improves one's working memory and cognitive ability. Thus people with ADHD, by continuously practicing mindfulness, can perform cognitive tasks better.
Impact on the brain: There is substantial empirical evidence that suggests that practicing mindfulness meditation can improve the supply of neurotransmitters like dopamine and norepinephrine, eliciting similar effects to that of medication.
Emotional Regulation: Some studies have also shown that mindfulness can help you understand and process emotions better. Since you actively focus on your behavior and thoughts, you tend to get less overwhelmed by external stimuli. Mindfulness helps you react to your emotions in a safe yet compassionate way.
Reduces Anxiety: Since people with ADHD often struggle with forgetfulness and the inability to complete tasks, they are prone to anxiety and poor self-esteem issues. Mindfulness practices allow them to take a deeper look at themselves, allowing them to make room for their imperfections and work on them while being kind to themselves.
Mindfulness practices you can follow!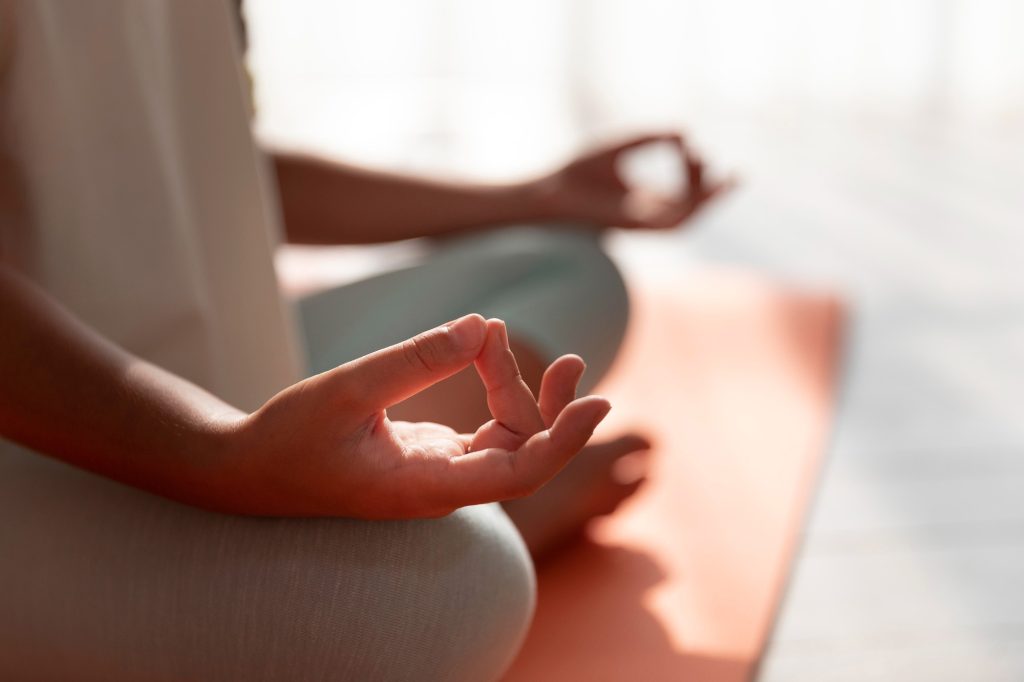 The benefits of practicing mindfulness meditation for people with ADHD are quite evident. Here are a few tips to help you get started :
There is no fixed posture to meditate: Since people with ADHD are prone to restlessness, walking meditation is also an option. The aim is to be comfortable.
Try to assign a specific time for meditation: Routines help you navigate your way through an array of overwhelming stimuli. If you have a routine of meditation, getting started with it can feel less challenging.
Start small and simple: Even if you are able to only do breathing exercises for say 5 minutes, it is completely okay. It is best to start slow and gradually expand your awareness.
Let your thoughts wander: A big part of mindfulness meditation is to learn how to not get overwhelmed by your thoughts. So when you are meditating, don't hold back. Look at each and every thought that passes your mind, but stay rooted in the awareness of your body.
Choose your environment: Any environment that is comfortable for you works! It doesn't have to be a quiet chamber or a quaint garden. A corner in your bedroom will work perfectly if that's where you feel comfortable.
Remember, every human has the capacity to be mindful. It is a simple, inexpensive and powerful technique to cope with the symptoms of ADHD. Just be gentle, kind, and persistent with yourself, and you will do just fine!