Have you ever felt the sensation of itching or burning as soon as you come into contact with rubber gloves? Does your throat begin to close up when you try to blow air into a balloon? Can a simple stethoscope check make your heartbeat regular and bring on a bout of nausea? If you have experienced any of these issues you may be allergic to latex. Latex is a common constituent of several medical and consumer items such as bath toys, medical syringes, catheters, condoms, etc.
What is Latex allergy?
You can be allergic to latex, a natural rubber product used in the production of items like rubber gloves, condoms, and various medical devices if your immune system has an abnormal reaction to particular proteins present in latex. The reasons for this condition are unknown to medical professionals. Exposure to rubber and latex regularly may play a role in the development of this condition.
How does one Come into Contact with Latex?
The following are ways in which latex may be encountered:
Using a latex glove or directly touching something made of latex.
Through the linings of the gastrointestinal tract, lungs, and other respiratory organs, as well as the vagina and rectum.
It may be inhaled. Cornstarch powder is sometimes used to absorb latex in rubber gloves, but it might release into the air when the gloves are discarded.
Certain rubber-made medical equipment may also cause exposure to latex through blood.
Symptoms of Latex allergy
Contact is the most common way of getting an allergic reaction to latex. It manifests as a rash at the site of contact. The rash may lead to Hand Itch or a condition characterised by a skin rash that may be warm to the touch (e.g., hives, eczema)
These kinds of responses tend to be short-lived. Sometimes they appear shortly after exposure, while other times they take several hours to manifest. Depending on the severity of the rash, you may need hydrocortisone cream or calamine lotion for relief.
Sometimes the proteins in latex might be released into the air. It is then possible for a hypersensitive person to breathe them in unwittingly, leading to exacerbation of their symptoms. Symptoms of this category include swelling of the face, lips, or tongue; a runny or congested nose, difficulty in breathing, cramping, diarrhoea, irregular heartbeat, and lightheadedness.
It is also possible to have a severe allergic reaction to latex, known as anaphylaxis, albeit this happens infrequently. Untreated anaphylactic shock can lead to life-threatening respiratory problems, low blood pressure, and even be fatal.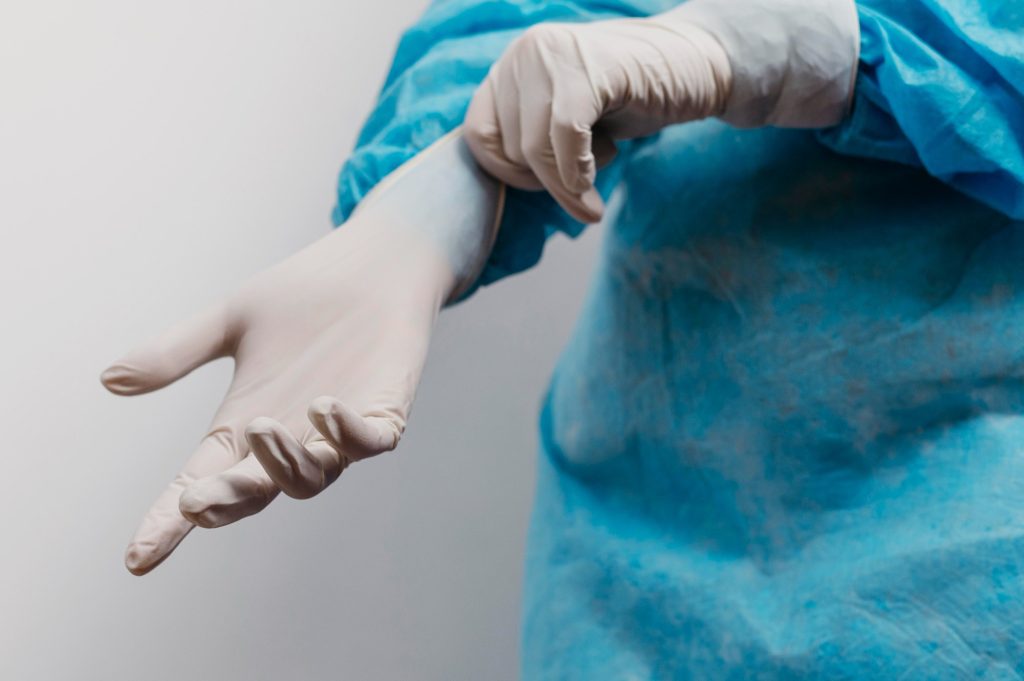 How to Avoid Symptoms from Flaring Up
If you suffer from a latex allergy, it's best to stay away from all items made with latex such as floor mats, syringes, catheters, baby bottles and bath toys, latex-made condoms, etc. Also, stay away from anything that could potentially trigger an allergic reaction.
Before undergoing any kind of test or treatment, patients with latex allergies should inform their doctors and dentists. Patients with latex allergies can access dental and medical care in a latex-free environment. There have been significant drops in the number of patients diagnosed with a latex allergy at hospitals and clinics that have switched to using just low-protein latex gloves or non-latex gloves.
The information and guidance provided by allergists can be invaluable in helping someone with a latex allergy avoid products that may contain the substance.
Take Away
If you have a latex allergy, the best thing you can do is stay away from it. In case you may suffer from a severe latex allergic reaction, it is recommended to take proper precautions such as Wearing proper identification that serves as a medical alert and Maintaining ready access to an adrenaline auto-injector (epinephrine) in case of a medical emergency. Latex can be eliminated from life by adopting latex-free goods and products. Proper precautions can make life with this condition easier.