Have you ever felt a stomach ache coming on when you eat bread? Do you notice rashes on your body after you enjoy pasta? Are hives a common occurrence after you've consumed your morning cereals? If these situations seem familiar, you might be allergic to wheat.
Wheat allergy is among the most prevalent types of allergic reactions, affecting millions of people across the globe. Eliminating wheat from your diet may seem like a small feat to others but it is a huge task as wheat is very solidly integrated into our food atmosphere as well as in our dietary patterns. It is found in the most unsuspecting things such as soy sauce and ice cream. Hence it is important to have a full understanding of what you're dealing with, relate your experiences with those in your position and formulate a strategy for yourself to avoid any kind of health issues that the allergy carries. So let's get started!
What is Wheat Allergy?
Wheat allergy is diagnosed when a person has an adverse reaction to wheat or wheat products. Both ingesting wheat and being exposed to wheat flour can trigger allergic responses.
In simple terms, your body perceives wheat proteins as a threat/outside infiltrator and forms antibodies to protect you from the perceived threat.This immune response can trigger bodily reactions which may sometimes be life threatening.
Your body's immune system can be triggered by consumption of any of these wheat proteins: albumin, globulin, gliadin and gluten.
Signs and Symptoms of Wheat Allergy
A kid or adult who is allergic to wheat is likely to show signs within minutes to hours of consuming something having wheat proteins. Wheat allergy symptoms vary from person to person but some of the common ones are as follows:
Throat or oral swelling, itchiness, or irritation
Hives, rashes which may be itchy or swelling of the skin
Nose blocks
Headache
Breathing Difficulty
Stomach ache and Nausea
Diarrhoea
Anaphylaxis: It is a severe reaction to wheat that causes your throat to swell up and can even put your body into shock. It manifests in the form of distressing stiffness or pain in the chest, issues with swallowing, faintly bluish complexion, fainting or dizziness and it becomes very challenging to breathe. Anaphylaxis is a medical emergency that needs to be treated right away.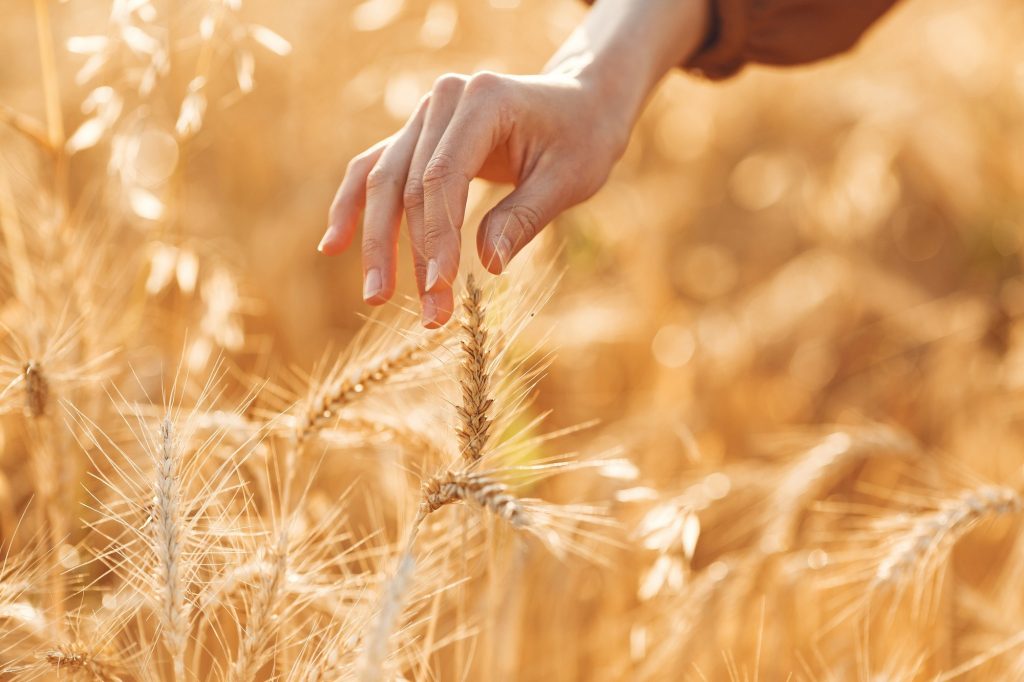 Embracing a Wheat-Free Way of Life
The common sources of wheat such as bread, pasta etc can be avoided easily however, wheat is also found in various things that you can never imagine. These include Beauty and skincare products, bath salts and tub toys, and sculpting clay.
Things to avoid:

Bread: Sandwiches, Burgers, Bread crumbs
Baked goods: cakes, muffins, cookies,pizza
Cereals: Cornflakes
Pasta: All kinds
Semolina
Processed Packaged goods: Biscuits, Chips
Soy Sauce
Sausage and other meat products
Dairy products: Ice cream
Herbal extracts
Gelatin, Vegetable gum

Things to consume:

corn
rice
quinoa
barley
rye
Oats
​​Fresh produce
Legumes
Meats that have not been processed
Wheat allergy VS Celiac Disease
Wheat allergy and celiac disease are often used interchangeably; nevertheless, they are two distinct illnesses with different diagnostic criteria and symptom manifestations. Gluten is a type of protein present in wheat that can trigger an aberrant immunological response, leading to Celiac disease. Although the celiac disease may have no noticeable early signs, it can severely impair a person's digestive system over time. Yet, even if a person does not have celiac disease or a wheat allergy, they may still experience digestive issues due to a syndrome known as non-celiac gluten sensitivity. Gluten sensitivity extends to other grains such as barley, oats and rye.
Risk Factors
If either of your parents has wheat or other food allergies you have a higher chance of developing those allergies yourself. Infants and young children, who still have developing immune systems and digestive systems, are particularly vulnerable to wheat allergy symptoms. Wheat allergy is usually outgrown by the time a kid reaches the age of 16, but it can develop in adults, usually as a cross-sensitivity to grass pollen.
Take Away
Wheat allergy symptoms can be distressing, but you will learn to live without wheat in no time. Contact your medical practitioner who will give you emergency medications and life-saving shots in case of anaphylaxis. Knowing how to handle anaphylaxis if it happens will let you rest easy and continue your life as usual. Apart from this lifestyle changes such as checking the label any time you pick up something off the aisle will help in preventing any symptoms from surfacing.