Who doesn't love eggs? Sunny side up, Omelettes, boiled eggs, and eggs benedict make up for the perfect breakfast. Almost all nutritional advice starts with eggs for breakfast. Many of our favourite things to eat like cakes and muffins may contain eggs. But have you often noticed your child developing rashes or a runny nose after an egg-based meal? For kids, eggs are a common allergen. While finding out your child has an allergy to a common food item can be scary it is important to remember that all allergies are culpable with just a few precautions. So if you're a worried parent about how to deal with your child's egg allergy you have come to the right place! Here's a full guide explaining egg allergies and how to live with them.
What is it?
Among children, egg allergies are the most prevalent and the most likely to disappear before starting school. Children with infantile eczema account for the vast majority of egg-related allergy responses. In most cases, symptoms of egg allergy become noticeable between the ages of 6 and 15 months, with the most severe reactions happening between the ages of 6 and 12 months.
Symptoms of an egg allergy typically manifest between minutes to hours after consuming eggs or meals containing eggs. Skin rashes, hives, nasal congestion, vomiting, and other gastrointestinal issues can all be moderate symptoms. Very rarely, those who are allergic to eggs can experience anaphylaxis.
Most kids get over their egg allergy by the time they hit puberty, however, it's not always the case and sometimes egg allergies can continue into adulthood.
Diagnosis of egg allergy
Your child's doctor may use several methods, including the exclusion of other possible diagnoses, to determine if he/she has an egg allergy.
Unlike food allergies, which involve the immune system and can be life-threatening, food intolerances, which can manifest as symptoms similar to those of an egg allergy, are usually much less severe and more easily treated.
Your doctor will collect a complete medical history and perform a full physical examination. They may also suggest one or more of the following exams:
Testing through the skin is the most common form of diagnosis. The protein present in eggs is used to expose the skin to a little amount after it has been punctured. An elevated lump (hive) may appear at the test site if your child has an allergy to eggs. In most cases, allergy skin tests are best administered and interpreted by trained allergists.
A blood test can determine whether or not a person is allergic to eggs by measuring the levels of certain antibodies.
Ingestion test: This egg allergy test includes ingesting a very small amount of egg to determine whether or not your child has an allergy to it. While monitoring for symptoms of a food allergy, if no adverse reactions occur, more egg is given. To avoid a potentially life-threatening reaction, this test should only be administered by an allergist.
Keeping a food journal or trying an elimination diet may be a way to discover allergens. Your doctor may have your child keep a food diary and gradually cut out certain items, such as eggs, to see if symptoms improve.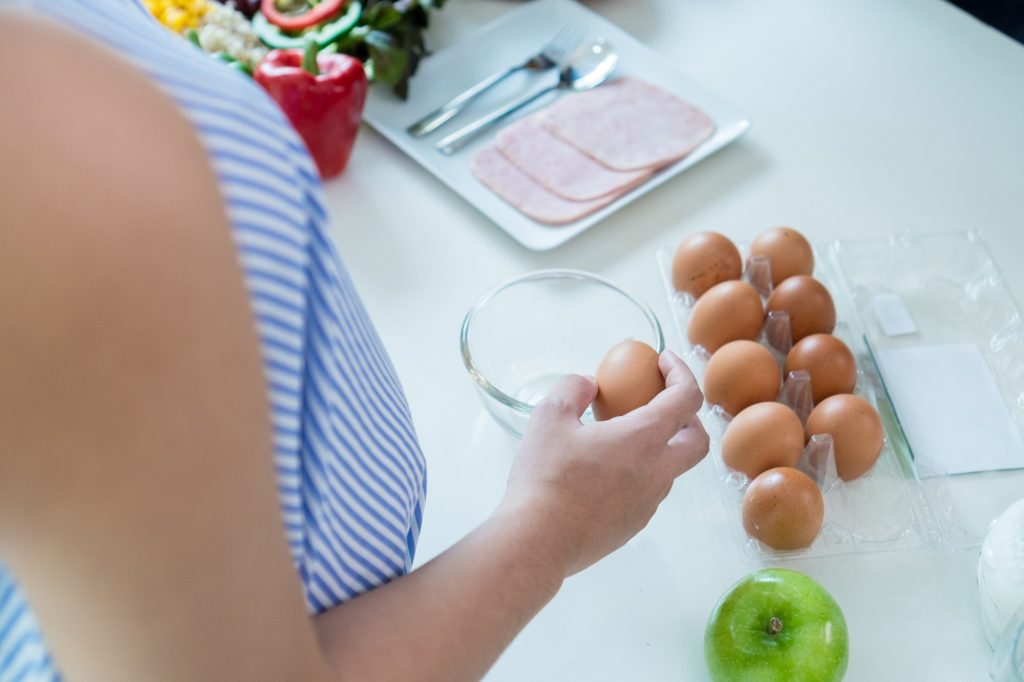 How to replace eggs in meals?
Several commercial egg substitutes are available in the market and can be used in baking such as flaxseed eggs. Yet you can't make omelettes or scrambles using egg replacers like you can with real eggs. Potato starch, tapioca starch, and baking soda are the usual ingredients in egg replacements. You can also use a homemade replacement in cooking. All you have to do is Substitute each egg with a concoction of 1 tablespoon of water and cooking oil along with a teaspoon of baking powder.
Treatment
Avoiding eggs and anything made with eggs is the only approach to lessen the likelihood of experiencing allergic reactions. Some persons who are allergic to eggs can eat baked items that contain eggs because the eggs have been thoroughly cooked.
For mild egg allergies, medications such as antihistamines may help alleviate symptoms. This medication can be administered after being exposed to eggs.
You may need to keep an epinephrine injector with you at all times. Patients experiencing anaphylaxis should be given an epinephrine injection, taken to the emergency hospital, and monitored for several hours to make sure their symptoms do not reoccur.
You need to learn how to use the autoinjector. Make sure the people caring for your child have access to and are familiar with the device. Make sure your kid knows how to use it if he or she is of age. Don't forget to get a new autoinjector before it stops working.
Take Away
Many kids outgrow their egg sensitivity as they get older. Egg allergies are mostly mild and symptoms can be kept at bay by taking proper dietary precautions. Have a conversation with your kid's doctor about how often they should get checked to determine whether eggs are still a trigger. If your child has ever had a serious reaction to eggs, it is likely not a good idea to conduct a home test to see how he or she reacts to them now.