Meal prepping and batch cooking are two essential practices that can make a significant impact on your eating habits, time management, and overall wellness. Whether you're a busy professional, a fitness enthusiast, or just someone who wants to eat healthily and save time, these practices can help you achieve your goals.
In this blog, we will discuss the benefits of meal prepping and batch cooking, and how they can positively impact your life.
What is Meal Prepping?
Meal prepping involves preparing your meals in advance, usually for a week, so that you can easily and quickly access them when you need them. This can be done by preparing the ingredients in advance, cooking the meals ahead of time, and storing them in containers.
What is Batch Cooking?
Batch cooking is the process of cooking large quantities of food at once and then storing it for later use. This technique is ideal for busy individuals who want to save time and energy while ensuring they have healthy and nutritious meals available throughout the week.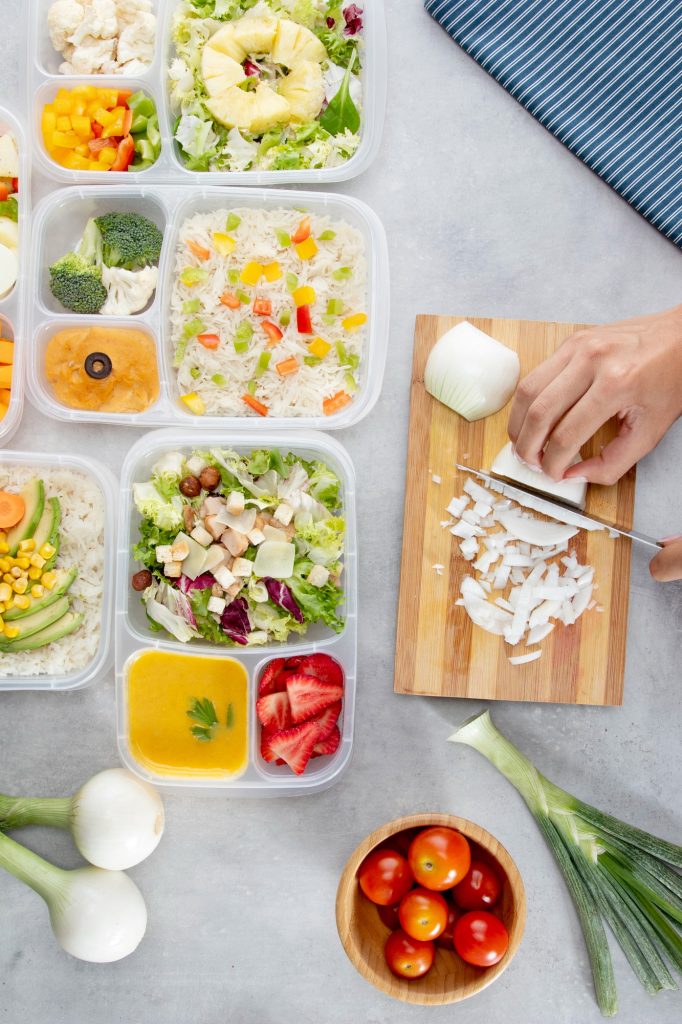 Benefits of Meal Prepping and Batch Cooking
Time-Saving
One of the most significant benefits of meal prepping and batch cooking is the time-saving factor. By cooking meals in advance, you can save hours in the kitchen during the week. This means less time spent grocery shopping, cooking, and cleaning up, and more time doing the things you love.
Consistent Healthy Eating
Another advantage of meal prepping and batch cooking is that it promotes consistent healthy eating. When you have pre-prepared meals on hand, you're less likely to reach for unhealthy snacks or fast food. It also ensures that you're consuming balanced and nutritious meals that meet your dietary requirements.
Cost-Effective
Meal prepping and batch cooking can also help you save money on groceries. When you buy ingredients in bulk, you can take advantage of discounts and promotions. Additionally, cooking at home is generally cheaper than eating out, so you can save a significant amount of money by meal prepping and batch cooking.
Reduced Food Waste
By preparing meals in advance and cooking in large quantities, you can also reduce food waste. You can buy ingredients in the right quantities, and you won't end up throwing away unused ingredients that go bad. Additionally, by storing meals in containers, you can easily track the expiration dates and consume them before they go bad.
Less Stressful Life
Preparing meals in advance can also help you reduce stress levels. When you have pre-made meals on hand, you don't have to worry about what to cook for dinner or lunch. This means less time spent planning and less stress when you're short on time.
Tips for Meal Prepping and Batch Cooking
Plan Your Meals
The first step in meal prepping and batch cooking is to plan your meals. Decide what meals you want to prepare, and make a list of the ingredients you'll need. This will help you stay organized and avoid last-minute grocery runs.
Invest in Quality Containers
Investing in quality containers is essential for meal prepping and batch cooking. Make sure to choose containers that are microwaveable, freezer-safe, and leak-proof. This will ensure that your meals stay fresh and are easy to transport.
Keep It Simple
Don't try to overcomplicate your meals when you're just starting. Keep it simple and stick to recipes that you're comfortable with. As you become more confident, you can experiment with new recipes and techniques.
Cook in Bulk
When batch cooking, cook in large quantities to make the most of your time and energy. You can also freeze portions of the meals for later use.
Label and Date Your Meals
To avoid confusion and food waste, label and date your meals. This will help you keep track of what's in your fridge and
Use Leftovers
Don't let leftovers go to waste. Incorporate them into your meal prep plans by using them as ingredients in new dishes or simply reheating them for a quick meal.
Schedule Your Prep Time
Set aside a specific time each week to do your meal prep and batch cooking. This will help you stay consistent and make it a part of your routine.
The Bottom Line
Meal prepping and batch cooking are two excellent practices that can help you save time, eat healthier, and reduce stress levels. By planning your meals, investing in quality containers, and cooking in bulk, you can enjoy the benefits of these practices and make them a part of your lifestyle.