If you're expecting a baby, then one of the most important things you can do is to make sure you get the best prenatal care possible. In this article, we'll take a look at what prenatal care is, where to get it, and what to expect on your first visit to the doctor. Let's dive in!
Prenatal care is the care that you receive in your pregnancy which keeps you and your baby healthy. Prenatal care helps detect health problems and complications quite early on and helps your provider suggest the appropriate treatment.
Getting prenatal care early and regularly is very important. It can help you have a healthy pregnancy and a full-term baby. Being born full-term provides your baby with the necessary time in the womb to grow and develop.
Who can you go to for prenatal care?
You can get prenatal care from an obstetrician/gynaecologist (also called OB/GYN) who is a doctor who specializes in women's health, menstruation, childbirth, etc. and has the training to take care of pregnant women and childbirth. A certified nurse-midwife who has received education and training to care for women of all ages, including pregnant women can also help you get prenatal care for you and your baby.
How often should you visit your doctor?
Weeks 4 to 28 of pregnancy: One check-up every 4 weeks
Weeks 28 to 36 of pregnancy: One check-up every 2 weeks
Weeks 36 to 41 of pregnancy: One check-up every week
In case of high-risk pregnancies, the doctor might recommend more visits.
On your first prenatal check-up, talk to your doctor about:
On your first meeting with your doctor, share the first day of your last menstrual period (LMP) to find out your baby's due date.
Talk to your doctor about your health conditions (like — depression, anxiety, PCOS, diabetes, blood pressure problems or weight issues), allergies, family health history, and record of any treatments that you may have undergone. This information is absolutely essential to detect problems early on to minimize complications so that you and your baby stay as healthy as possible.
Talk to your doctor about your pregnancy history. If you've ever had difficulties getting pregnant or previously been pregnant, let your provider know. Tell her if you experienced any pregnancy difficulties, or if your child was born prematurely, miscarried, or was stillborn.
Talk to your doctor about any addictions that you may have like — smoking, drinking alcohol or drug abuse that may hurt your baby during pregnancy.
Tell your doctor about the amount of stress you're under on a daily basis. High levels of stress can make pregnancy more difficult. Talk to your doctor about stress management and stress reduction techniques.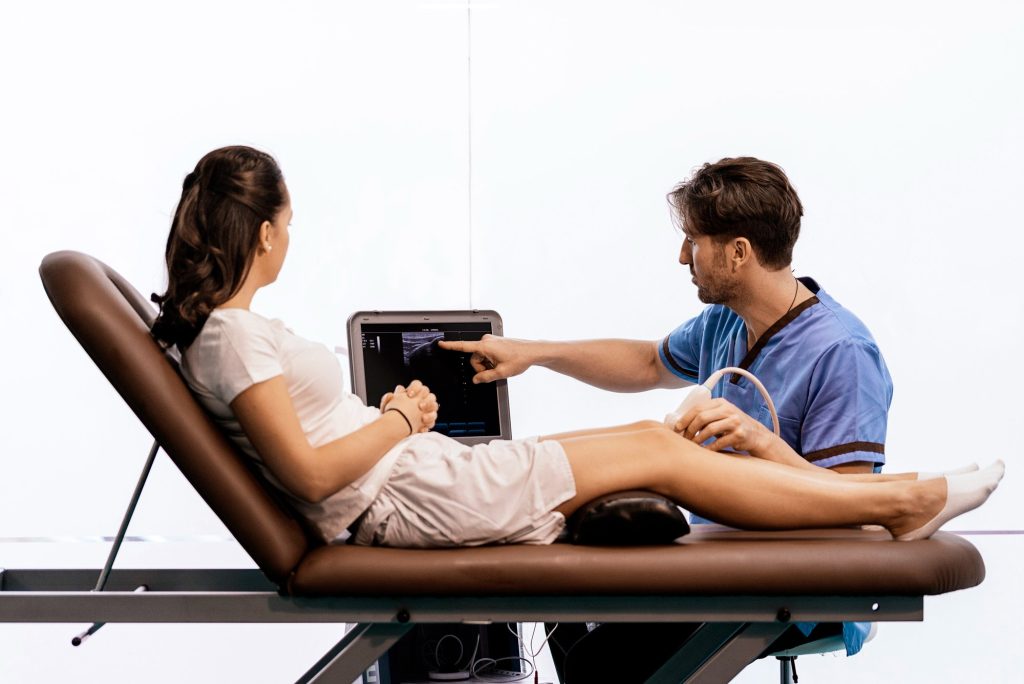 What happens at your first prenatal care check-up?
Your first check-up is usually the longest because your provider asks you lots of questions about your health. At your first prenatal care check-up, your provider:
A physical examination will be performed to assess your overall health. Your doctor will measure your weight and height to determine how much weight you should gain during pregnancy.
Blood tests and urine samples: A doctor will carry out some blood tests to detect any infections, like syphilis, hepatitis B, and HIV. Blood tests can also detect anaemia, which occurs when your body does not have enough healthy red blood cells to transport oxygen to the rest of your body. Rh factor is a protein found in the red blood cells of most people. It can cause Rh disease in your baby if you don't have it and your baby does. Preeclampsia is a serious condition that can be diagnosed with blood pressure and urine tests. This is a type of hypertension that can occur during pregnancy. A high level of protein in your urine could indicate preeclampsia. Urine tests can also tell your doctor if you have a kidney or bladder infection, as well as other conditions such as diabetes.
A pelvic examination and a Pap smear: For checking the pelvic organs to make sure they're healthy a pelvic examination is conducted. A Pap smear is conducted to check for cancer and infections, like chlamydia and gonorrhoea.
Your doctor will talk to you about prenatal tests: To ensure that your baby is from health problems, your doctor will perform a series of prenatal tests. You may want to have certain tests if you have specific issues or if you are at high risk of having a baby with a genetic or chromosomal condition, such as Down syndrome. If you are at risk of having a child with one of these conditions, a genetic counsellor would assist you in understanding genes, birth defects, and other medical conditions that run in families, as well as how they can affect your health and the health of your baby.
Your doctor will prescribe a prenatal vitamin: This is a multivitamin designed specifically for pregnant women. These multivitamins contain Folic acid which is a vitamin that is required for proper growth and development. It can help protect your baby from birth defects of the brain and spine known as Neural Tube Defects (NTDs) and birth defects of the mouth known as cleft lip and palate.
Conclusion
Later prenatal care check-ups are typically shorter than the first. Be sure to share with your provider how you're feeling and what changes you're noticing at your check-ups. This will help your provider get to know your journey better and suggest treatments that fit you the best. Make a point to ask questions you might have between visits and bring them up at your next check-up.
We hope we have helped to provide some insight into what to expect from your first prenatal visit as well as those following so that you can feel confident and excited for all stages of your journey into parenthood!