Pregnancy is a time of great change—not just for your body, but for your sleep habits, too. You may find that you can't get as much shut-eye as you did before you became pregnant, and adjusting to a new sleep schedule can be tricky.
Luckily, there are some sleep positions that are more comfortable during pregnancy. We'll walk you through them below. Keep in mind that what works for one woman might not work for another, so experiment until you find the position that's best for you.
Good sleep is essential for pregnant women. During those nine months, your body is going through a lot of changes, both internally and externally. So it's important to get as much rest as possible. When you're well-rested, you're better equipped to handle the challenges of pregnancy.
There are a lot of factors that come into play when it comes to finding the best sleep position during pregnancy. Each woman is different, and each pregnancy is different. What works for one mom-to-be might not work for another. But there are a few general guidelines that can help you find the position that's most comfortable for you.
Recommended Sleep Positions During Pregnancy
There are a few recommended sleeping positions during pregnancy. The best position for most pregnant women is to sleep on their left side with a pillow between their legs. This position helps keep the blood flow going to the baby and prevents swelling in the leg.
Another good sleeping position is to sleep on your back with a pillow or two under your knees. This raises your upper body and takes the pressure off your stomach and spine. You can also sleep with your head and shoulders elevated a few inches by using pillows.
Avoid sleeping on your stomach, as this can decrease the blood flow to the baby. It's also not recommended to sleep in the same position all night long. Try to switch positions every few hours to get the most comfortable sleep possible.
Pros and Cons of Each Position
There are a lot of different opinions out there about the best sleep position during pregnancy. Some people swear by sleeping on your left side, while others think that the fetal position is the way to go. Let's explore the pros and cons of each position.
Sleeping on your left side is said to improve blood flow and increase the amount of oxygen and nutrients that reach both you and your baby. It also helps keep your stomach acids and food down, which can be a problem later in pregnancy. However, some people find it uncomfortable to sleep on their left side for long periods of time.
The fetal sleep position is said to be the most comfortable one for pregnant women. This is when you curl up on your side, with your knees pulled up to your chest. It's said to help with heartburn, reduce swelling in the legs and feet, and make it easier for you to breathe. However, there is a danger of rolling onto your back in this position, which can decrease blood flow to the baby.
How Cushioning, Pillows or Mattresses can Help with Comfort
For pregnant women, comfort is key when it comes to finding a good sleep position. And while there are a few different positions that can work well, oftentimes it's the cushioning, pillows or mattresses that can make all the difference.
If you're looking for a little extra support, consider using a body pillow or placing pillows around you to help prop up your belly, back and legs. You can also try sleeping on your side with a pillow between your knees to help keep your hips aligned.
As for mattresses, there are a few things to keep in mind. If you're pregnant and have a history of back pain, you might want to consider investing in a firmer mattress. Otherwise, any type of mattress is fine as long as it's comfortable for you. Just remember that during pregnancy, your body is going through a lot of changes, so what was comfortable before might not be now. It's important to listen to your body and adjust accordingly.
What to do if you can't get Comfortable? Tips to Improve Sleep Quality
If you're really struggling to get comfortable, there are a few things you can try to improve your sleep quality.
First, make sure your bedroom is set up for optimal sleep. This means keeping the room dark, quiet, and cool. If you need to, use a noise machine or earplugs to block out any outside noise. And consider using a light-blocking curtain or eye mask to help keep the room dark.
Second, establish a bedtime routine and stick to it as much as possible. This could include taking a relaxing bath, reading a book, or writing in a journal. Doing the same things each night will signal to your body that it's time to wind down and prepare for sleep.
Finally, if you find yourself tossing and turning all night, get up and do something calm and relaxing until you feel sleepy again. Avoid working on your laptop or watching TV in bed, as the blue light emitted from screens can interfere with sleep. Instead, try reading or doing some gentle stretching or yoga poses.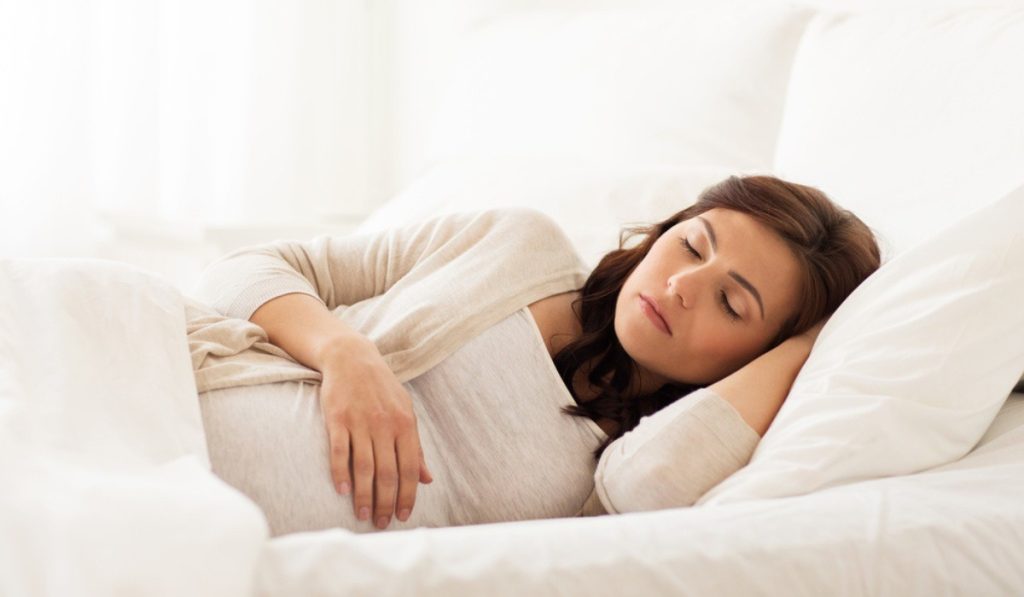 Common Sleep Problems Related to Pregnancy
There are a few common sleep problems that tend to pop up during pregnancy. If you're struggling to fall or stay asleep, you're not alone. Here are a few of the most common issues and some tips on how to address them.
– Heartburn: This can be a real pain, literally and figuratively. Heartburn happens when stomach acid rises up into the oesophagus, and it's pretty common during pregnancy. To help ease heartburn, prop yourself up with pillows when you sleep and avoid lying down for at least two hours after eating a meal.
– Leg cramps: Many pregnant women experience leg cramps, especially at night. To help prevent them, exercise regularly and stretch before bed. If you do get a cramp, try massaging the muscle or applying heat.
– Bathroom breaks: Having to pee all the time is just another joy of pregnancy. Unfortunately, there's not much you can do about this one except try to go to the bathroom before bed and limit your fluid intake in the evening.
If you're struggling with sleep during your pregnancy, talk to your doctor. They may be able to recommend some additional tips or changes to your routine that can help you get the rest you need.
Conclusion
As a pregnant woman, finding the best sleep position is important for your comfort and for the health of your baby. While you may be used to sleeping on your stomach or on your side, there are other positions that you can try during pregnancy.
The best sleep position for pregnant women is on their left side, as this allows for the best blood flow to the baby. You can also try sleeping on your back, but you should avoid sleeping on your stomach. If you find that you are uncomfortable in any position, try changing to a different position until you find one that is comfortable for you.