Are you tired of feeling tired? Sleep is essential for good health, yet many of us struggle to get the recommended amount each night. But what if the solution to a better night's sleep was right in front of us? In fact, it might be as simple as optimizing our bedroom environment. From lighting and temperature to noise and décor, the way we design and use our bedrooms can have a significant impact on our sleep quality. So let's dive into the 'Whats' and 'Hows' of your bedroom environment so that you sleep better!
How does bedroom optimization work?
Before we rush towards what you can do, let us try to understand why you should do it. I am sure you've heard people go on about how they can't tolerate light, how they need some light, how they can only sleep in pin-drop silence, or how they need some sort of white noise to cool them out. All of these are factors that impact the quality of sleep you get. Let us try to decipher how each of them impacts our sleep:
Temperature and Sleep: Temperature deeply impacts how well you sleep through the night. Extremely hot or cold temperatures can put you to sleep quickly, but they may not allow you to sink into a deeper sleep. An irregular or uncomfortable temperature may make you wake up in between your sleep. On the other hand, keeping it optimum can help you with feeling refreshed and energised, every time you get up.
Noise: We have all been jolted awake by a sudden noise. Noise as an element can disrupt regular sleep patterns, however, its tolerance varies from person to person. Some people have no trouble sleeping in a room full of snoring sounds, and others, can't even tolerate the faint sound of television coming from another room. Research, however, indicates that high noise has often been associated with poor sleep.
Light or Dark? : When the sun rises, your body typically feels more alert and awake, while as the sun sets, you tend to feel more drowsy. This is not a coincidence but rather the result of your circadian rhythms, which control your sleep-wake cycle and are synchronized with changes in light levels. However, in contemporary life, exposure to light frequently continues after the sun sets. Thanks to indoor and outdoor illumination, you can be surrounded by light well into or after your normal bedtime.
An hour after getting up, two hours prior to sleep, and all through the night, your body is most vulnerable to bright light. As a consequence, late-night exposure to artificial light may make it more difficult to fall into slumber.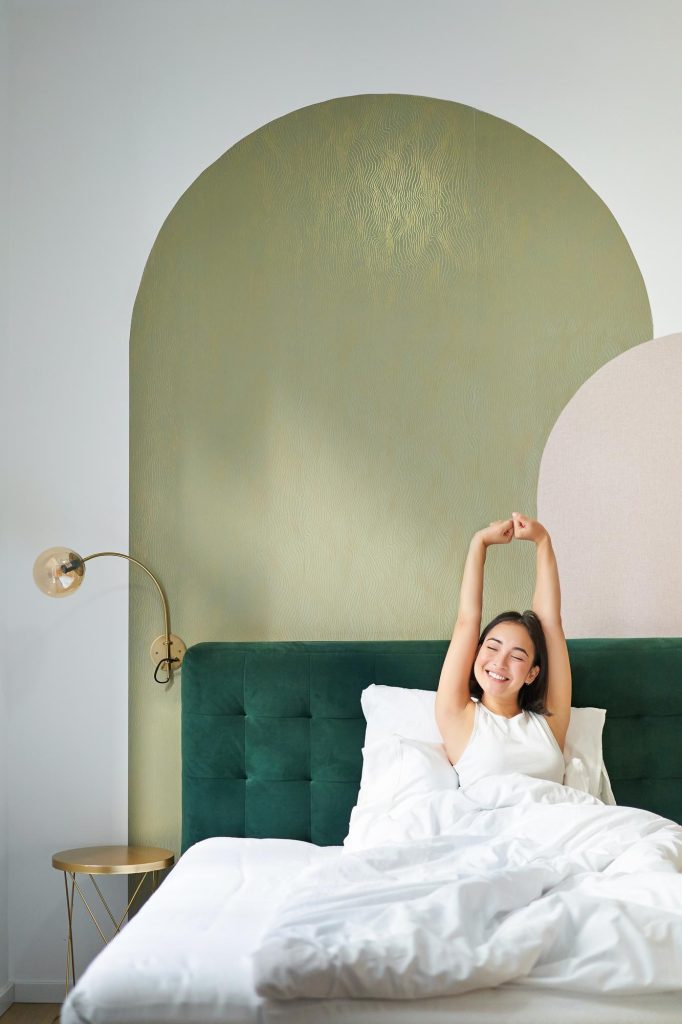 Colour: Numerous studies have shown that the color scheme of a room can significantly impact the quality of sleep you get. Cool and calming colors such as gray can promote restful sleep, while warmer colors may increase feelings of restlessness. While it may not be feasible to dictate the color of someone's existing bedroom, those who are renovating or redecorating can benefit from choosing a color palette that leads to a better night's sleep.
Clutter: Your bedroom should be calm and clutter-free to promote peaceful sleep. Disorganization can lead to anxiety and a sense of suffocation, negatively impacting your ability to sleep.
Create your perfect sleeping environment! 
After reading the previous section, you likely have a good understanding of the necessary bedroom changes. But if you're still confused or want to learn more, here are some quick tips that can assist you or your loved ones in creating the most sleep-conducive environment possible!
Keep the temperature at an optimum level. The suggested temperature is 60-72 fahrenheit degrees.
Consider using blackout curtains. They block out all kinds of light to ensure a completely dark room.
Try earplugs and eyemasks to isolate yourself from light and auditory stimuli.
No TV in the Bedroom! TV can keep your mind engaged for long, besides the light rays it emits can also disturb your sleep quality.
Electronics are a strict no-no!
Use the mattress that is the most comfortable for you. This extends to bedsheets, covers, and pillows. Whatever bedding makes you feel the most comfortable should be chosen.
Try a white noise machine. The noise it generates is calming and is proven to improve your sleep quality by putting your mind at ease and isolating you from all the background disruptions.
These are just some tips that may work for you. You need to try different combinations of habits and practices and figure out what works best for you and your surroundings. Practicing some of the above-mentioned tips can make a huge difference in your energy levels. Sleep is crucial and good sleep is nothing less than a blessing.