They say, "You are what you eat" and it's true, your dietary habits do significantly impact your body and sleep patterns.
Whether you are a coffeeholic or have a sweet tooth, your eating patterns impact how you sleep. In this article, we explore how food choices affect sleep, including the best foods for better sleep and the science behind their effects. Discover how to enhance your sleep quality through nutrition, whether you struggle to fall or stay asleep.
Foods that impact your sleep
While learning about the impact of food on one's sleep, it should be noted that certain food items have a more profound impact on one's sleep health. If not consumed in moderation, the following food items can increase the chances of sleep-related problems.
Sugar: Let's start with sugar, a component, almost every doctor warns you about. Added sugar has been related to sleep issues like insomnia. Sleep issues have been related to consuming high-sugar drinks like soda and caffeinated drinks. According to research, people who consume a lot of added sugar have a higher chance of having a restless night.
Caffeine: Chocolate, coffee, tea and soda, all contain caffeine, which can prevent you from falling asleep. Caffeine consumption can decrease total sleep time, impede the ability to fall asleep, and result in lower perceived sleep quality.
Alcohol: While alcohol may induce relaxation and facilitate sleep onset, it can decrease overall sleep quality by causing lighter sleep and increased wakefulness in the second half of the night.
Spicy Food: Bet you didn't expect this one, did you? Spicy foods can make it difficult to fall asleep and interfere with deep sleep once you are unconscious, disrupting slumber. This could be because spicy foods cause indigestion, but it could also happen because they increase inner body temperature, which affects one's sleep.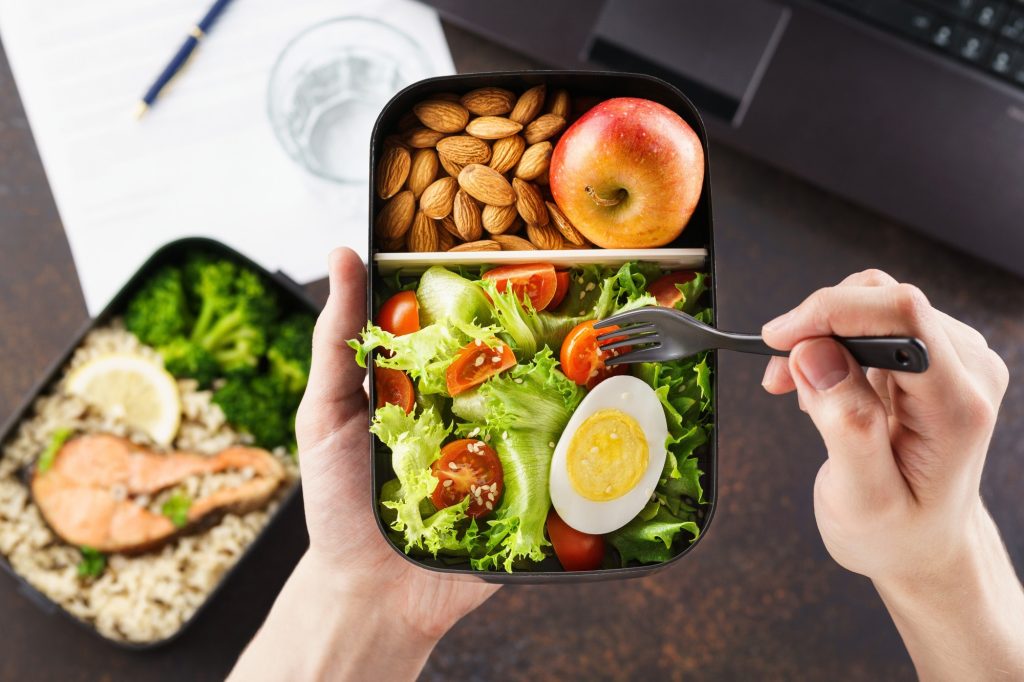 Tips on how you can improve your diet for a better sleep
Now that we have covered how certain food items can impact your sleep patterns, let us shift our focus to things you can do to make your diet better, resulting in better, more restorative sleep.
Eat breakfast like a king and dinner like a pauper: Basically, eat light at night. You don't want to give your digestive system a lot to deal with. It might also be beneficial for you to at least have a 2-hour gap between your last meal of the day and the time of sleep.
No coffee after noon!: Avoiding caffeine consumption after 5 pm is a wide followed practice due to its negative impact on sleep quality and potential to cause anxiety, hindering the ability to fall asleep.
Smart snacking before bed: Just because you need to eat light, does not mean you should sleep with a grumbling stomach. Pick light snacks that aren't heavy on spice or fat but can keep you comfortably full.
Increase your intake of fruits and vegetables: Enriching your diet with a lot of fresh fruits and vegetables can have a positive impact on your sleep. For instance, fruits like Kiwi and cherries are a powerhouse of nutrients and have a high level of melatonin which promotes good sleep.
Incorporating sleep-friendly foods into your diet is a simple yet effective way to improve your sleep quality and overall well-being. By choosing the right foods, you can promote relaxation and better sleep, reduce the risk of sleep disturbances, and wake up feeling refreshed and energized.
So, if you're struggling with sleep, consider making some dietary changes and see how they can benefit you. Remember, the key is to be consistent and patient, as it may take some time for your body to adjust to the new habits. With the right approach, you can optimize your diet for better sleep and enjoy the many benefits of a good night's rest.