Have you been diagnosed with Hypothyroidism? Have you been advised to lose weight to reduce the symptoms? Are you having trouble losing weight? Hypothyroidism can often feel like a dark abyss that keeps pulling you in. It manifests in the form of weight gain and resistance to weight loss, digestive issues, feeling cold, and depressive episodes. Despite best efforts, it becomes difficult to lose weight and hence a lot of people end up developing eating disorders and mental health issues. Although hypothyroidism is usually discovered in adults, many people struggle with their weight and other symptoms for years. As people age, hypothyroidism worsens and affects considerably more women than men.
Why does hypothyroidism prevent weight loss?
Both in humans and animals, the thyroid hormone controls metabolism. Your metabolism slows down when your thyroid is underactive, which can result in weight gain and prevent weight loss. The majority of the excess weight that hypothyroid people gain results from extra salt and water retention.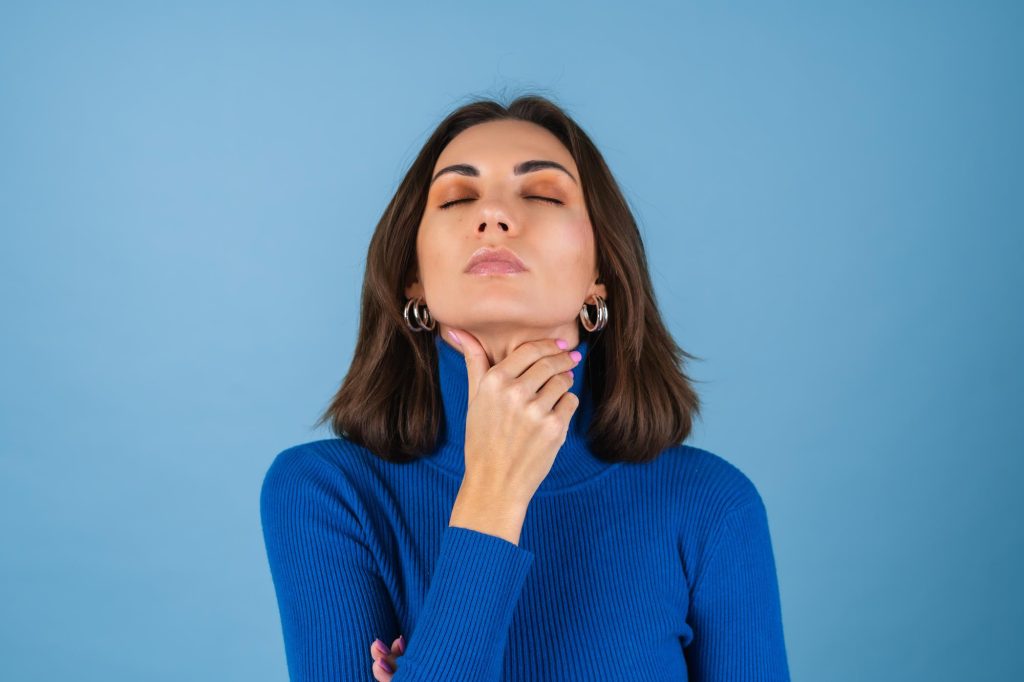 Tips to lose weight with Hypothyroidism
Regular exercise: Exercise is a terrific method to increase metabolism, strengthen bones, gain muscle, manage stress, and enhance heart health. Beginners should start with mild yoga and daily walks. You can include moderate-intensity aerobic exercise and at least two days of strength training. To achieve success, it is recommended to exercise for a minimum of 75 to 150 minutes a week depending on the difficulty level of your chosen exercise.
Don't Over-Exercise: Exercising with hypothyroidism sometimes becomes a little tricky. It can trigger autoimmune flares and hypermobility hazards. What that essentially means is the body can perceive itself to be under stress when you exercise and this might put the immune system in action to protect the body from that threat So be careful! Listen to your body and don't feel compelled to increase the intensity of exercise every day.
Reduce your tension: Stress leads to emotional and binge eating. It increases our cravings due to the psychological comfort that we attach to pleasing food such as fast and junk food. Your body releases a hormone called cortisol when you experience stress. Its overuse can affect how well your thyroid hormone is made. Pay attention to your stress triggers and make an effort to stay away from them. Pick up a few relaxation hobbies such as meditation, yoga, mandala art, etc.
Eat a balanced diet: A crucial component of your weight loss strategy is healthy nutrition. Eating well improves weight loss, heart health, blood sugar issues, and cholesterol issues, which are frequently associated with hypothyroidism. Consume lean proteins. Limit your consumption of fish, poultry, eggs, and beans to one serving per meal. Consume more vegetables either in soups, salads, or raw. Vegetables are low in calories and fibrous which can cure constipation and balance blood sugar. Load up on fruit, nuts, and yoghurt. Reduce carbs and sugars in your diet.
Hydrate: You may experience fatigue, drowsiness, and aches due to dehydration. Getting adequate water helps keep your metabolism running smoothly. Moreover, it can lessen your hunger, get rid of bloating and water retention, enhance gut health, and improve bowel movements. An average adult must drink 8-10 glasses of water a day
Sleep well: Sleep is the body's time for repairs, and it's crucial for general health and weight loss. It gives the body adequate rest and energy to continue. It is recommended to sleep for at least 6-8 hours, especially when trying to lose weight.
Take Away
Remember, The slow and steady wins the race. Hypothyroidism can sometimes be frustrating when despite unrelenting effort the scale won't budge. But Giving up is not an option. Living with hypothyroidism is never easy but if you commit to lifestyle changes and work regularly and consciously towards improving your health, results will show! If you're having excessive trouble, think about speaking with a qualified dietician who knows about treating thyroid problems.