Diabetes and thyroid disorders are both very common these days. Though this is still a topic of research, ongoing studies suggest a connection between the two.
Diabetes and thyroid disorders are endocrine disorders i.e., the conditions where the required hormones are not produced appropriately by our endocrine system. There can be many causes and likewise, there's also a long list of symptoms.
The thyroid gland is a butterfly-shaped endocrine gland located in our neck region. It produces hormones like calcitonin and other thyroid hormones, namely, T3 and T4 which play an important role in regulating our overall metabolism. Overproduction of thyroid hormones leads to hyperthyroidism while underproduction causes hypothyroidism. Generally, hypothyroidism is caused by Hashimoto's Thyroiditis and hyperthyroidism is caused by Graves' Disease.
Pancreas is both endocrine and exocrine in nature and is located in the abdomen. Its endocrine part produceshormones, insulin and glucagon. Insulin helps blood sugar in entering body cells thus, providing them with the required energy. A deficiency of insulin leads to the development of diabetes.
Type 1 and Type 2 diabetes are the most common among multiple types of diabetes. The pancreas cells are attacked in type 1 diabetes resulting in reduced insulin production while multiple factors including lifestyle, genetics, and insulin resistance lead to type 2 diabetes.
How are thyroid and blood sugar related?
The thyroid gland plays a major role in the regulation of body metabolism by secretion of hormones. Any fluctuation in hormone levels can lead to a disturbance in the blood sugar levels of a person ina variety of ways.
Overproduction of thyroid hormone increases the breakdown of fats and secretion of pancreatic hormones which further results in glucose intolerance and diabetes by causing hyperglycemia.
Thyroid hormones are important for carbohydrate metabolism and so, thyroid disorders can affect insulin, leading to type 2 diabetes. Studiessuggest serum-free fatty acids can affect insulin secretion adversely resulting in insulin resistance.
Researchers believe there is a relationship between the autoimmune response that leads to type 1 diabetes and autoimmune-induced thyroid dysfunction (AITD). About 17-30% of adults who suffer from type 2 diabetes are also affected by AITD and 25% of children who are suffering from type 1 diabetes are affected by hypothyroidism.
The hypothalamic-pituitary-adrenal (HPA) axis also plays an important role in diabetes and thyroid disorders. Cortisol comes into action here. It can lead to higher blood glucose levels, ultimately leading to a decrease in insulin secretion.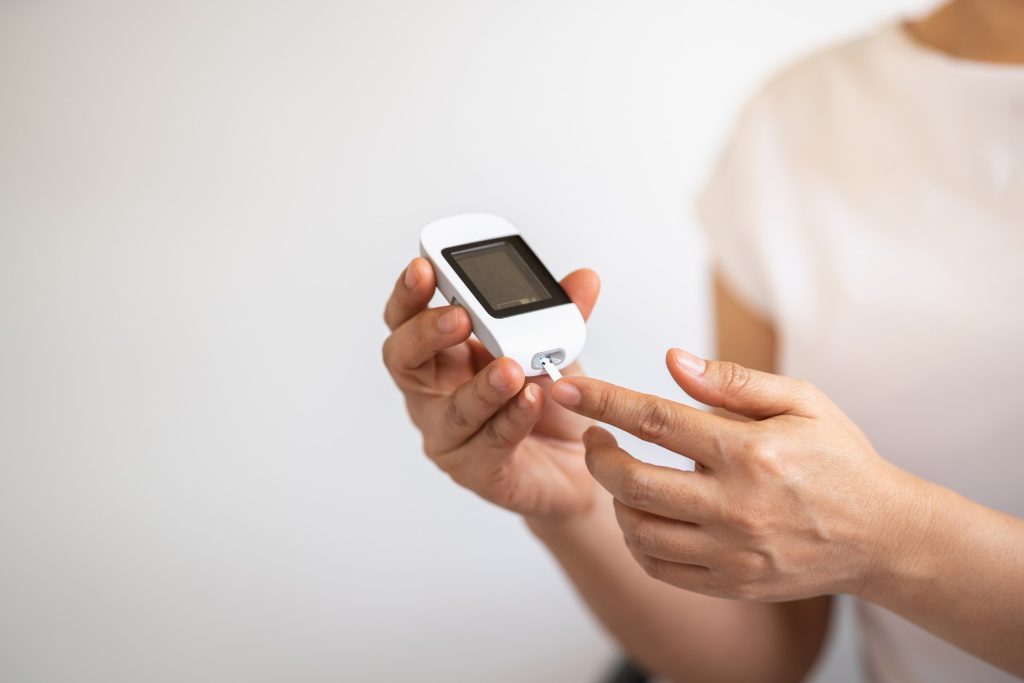 How to manage?
Though these conditions are not completely preventable due to the involvement of genetic factors, their onset can be managed by a healthy diet and lifestyle, regular exercise and keeping a check on one's weight.
Regular screening plays a major role in early diagnosis and proper management of these conditions. This involves regular blood tests for both, thyroid hormone profile where we measure the levels of T3, T4 and TSH in the bloodstream and glucose screening tests to measure glucose levels in the bloodstream.
When to seek medical intervention?
As soon as you realise the presence of symptoms associated with these disorders, it is advised you visit your physician.
Diabetes-associated common symptoms are
increased frequency of urination,
increased thirst,
increased hunger,
tiredness,
weight loss,
blurry vision,
numbness or tingling of hands or feet,
dry skin,
slow healing, and
prone to infections.
Symptoms associated with hypothyroidism include
dry skin and hair,
cold sensitivity,
fatigue,
constipation,
joint and/or muscle pain,
weakness,
depression,
heavier menstruation, and
weight gain.
Symptoms associated with hyperthyroidism include
irritability,
profuse sweating,
palpitations,
heat intolerance,
weight loss,
tremors or shaking,
fatigue,
increased bowel movements,
decreased concentration,
nervousness or agitation,
difficulty in sleeping,
enlarged thyroid gland at the base of the neck (goitre), and
irregular or scanty menstrual flow.
Conclusion
People with diabetes are more prone to thyroid disorders than others. That's why anyone who suffers from either of these two should be regularly screened for the other. Regular screening facilitates early diagnosis and helps in getting proper treatment. Both disorders have a high prevalence rate with each other. So, it's very important that a person suffering from either of these two should take all the necessary precautions to avoid the onset of other disorders.