What is "Yoga"?
Yoga is a therapy that falls both into the "mind-body" category and is related to Ayurveda and is an important alternative therapy for people with hypothyroidism.
When it comes to yoga, people assume it to be stretching or sitting in a cross-legged lotus position. But it is an ancient science that focuses on putting the whole body, mind, and intellect in harmony with the universe. Yoga is quite practical, with physical exercises (asanas), breathing exercises (pranayama), and meditation techniques that help achieve that union and balance.
Benefits of Yoga
Some of the many health benefits of yoga have been conventionally tested and proven and are even discussed in various medical journals and reports. The antidepressant effect of yoga and its role in improving lung function and breathing, thus, significantly reducing the amount of asthma medication required by patients is a proven example. Yoga is also effective in carpal tunnel syndrome. These are a few of the many proven examples of the benefits of yoga.
Let's look at yoga and its impact on thyroid disease and metabolism. In the never-ending quest for wellness—on a variety of levels—we have to say that yoga is one of the more satisfying, rewarding, and effective treatments one can find for feeling energetic, reduction in pain, and overall well-being.
Yoga doesn't act like a magic wand that will fix hypothyroidism overnight, but it has a variety of health benefits, some of which are very specific for regulating metabolism and thyroid function.
Yoga and Thyroid Disorders
Yoga can be beneficial in managing hypothyroidism as it can help reduce stress, improve circulation, and stimulate the thyroid gland. Here are some yoga asanas that may be helpful:
Sarvangasana (Shoulder stand pose) – This pose is believed to stimulate the thyroid gland and improve blood flow to the head and neck region.
Halasana (Plow pose) – This pose is considered to be beneficial for the thyroid gland, as it massages the gland and helps improve circulation.
Matsyasana (Fish pose) – This pose stretches the neck and throat, which can help stimulate the thyroid gland.
Bhujangasana (Cobra pose) – This pose helps improve circulation to the thyroid gland and can also help relieve stress.
Ustrasana (Camel pose) – This pose stretches the neck and stimulates the thyroid gland.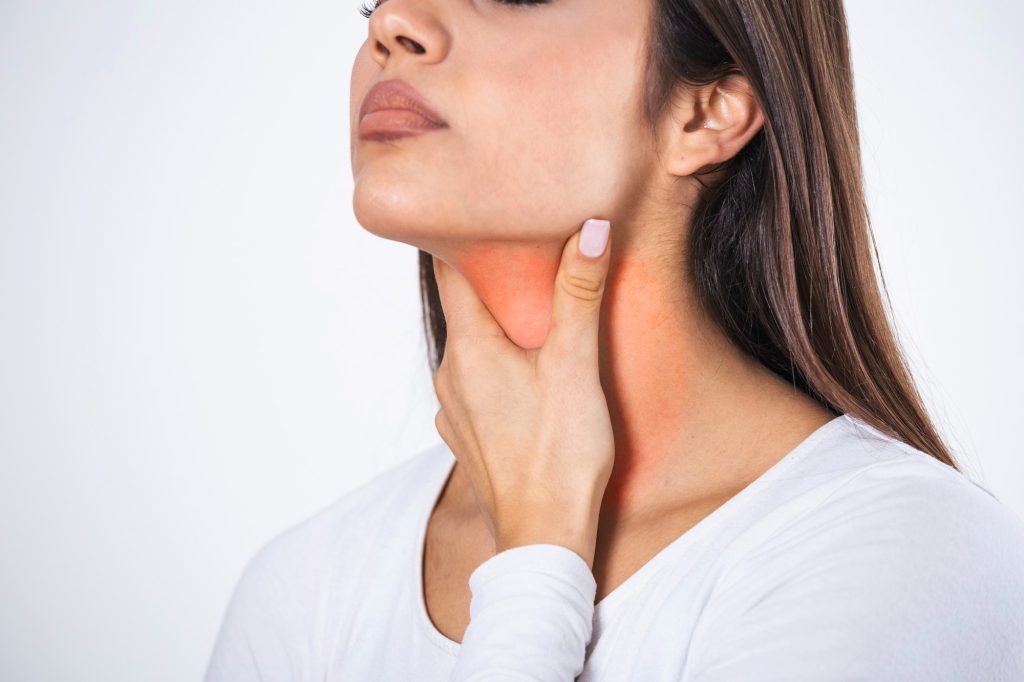 How does Breathwork help with hypothyroidism?


Breathwork, or pranayama, is a practice of controlling the breath to improve physical, mental, and emotional well-being. In hypothyroidism, breathwork can be beneficial in reducing stress, which is known to negatively impact thyroid function.
Stress triggers the release of cortisol, a hormone that can interfere with thyroid hormone production and cause imbalances. By practising breathwork techniques, such as slow, deep breathing, alternate nostril breathing, and ujjayi breathing, one can activate the parasympathetic nervous system, which helps the body relax and reduces the production of cortisol.
Moreover, certain pranayama techniques such as Bhastrika and Kapalbhati have been shown to stimulate the thyroid gland and improve its function by increasing blood flow to the gland.
However, it's important to note that breathwork alone is not a substitute for medical treatment for hypothyroidism. It should be used as a complementary therapy alongside conventional treatment under the guidance of a healthcare professional.
Conclusion
Yoga is very effective when it comes to regulating metabolism and reversing thyroid disorders. But it is important that it is practised under the guidance of a qualified trainer. The prescribed medication, if any, should never be stopped abruptly. Always consult your doctor before making any changes in the drug dosage.