Congratulations, mama-to-be! The moment those two lines appeared on the pregnancy test, your life changed forever. You're now embarking on a journey that will be filled with ups and downs, but rest assured – you're not alone. First-time moms often find themselves overwhelmed by the physical and emotional changes of early pregnancy. But fret not! In this blog post, we'll guide you through some coping strategies that can help make this exciting yet challenging time a bit easier to navigate. From morning sickness to mood swings, let's explore how you can handle it all like a pro!
What to Expect During Your First Pregnancy?
As a first-time mom, you may be feeling a mixture of excitement and trepidation about your pregnancy. It's normal to feel some anxiety about the unknowns of pregnancy and childbirth, but there are many resources available to help you feel informed and prepared for what's to come. Here's a look at what you can expect during your first pregnancy.
In the early weeks of pregnancy, you may experience some common symptoms like fatigue, nausea, and breast tenderness. These are all normal and usually resolve within the first trimester. You'll also need to start making some lifestyle changes, like avoiding alcohol and smoking, eating a healthy diet, and getting regular exercise.
Around week 12 of your pregnancy, you'll have your first ultrasound where you'll get to see your baby for the first time. This is an exciting milestone, but it can also be emotional as you realize that you're going to be a parent.
As your pregnancy progresses, you'll likely start to feel more comfortable and confident about what's ahead. But there can still be ups and downs during this time, so it's important to stay connected with your support system (partner, friends, family, etc.) and talk to your doctor if you have any concerns.
Symptoms and Health Concerns of Early Pregnancy
There are a variety of symptoms and health concerns that can come with early pregnancy. Many women experience nausea and vomiting, especially in the first trimester. This is often called "morning sickness," though it can happen at any time of day. Some women have very mild symptoms, while others may feel so sick they cannot keep anything down and lose weight.
Another common symptom is fatigue. This can be due to the hormonal changes of early pregnancy, as well as the body's need to adjust to the new demands of growing a baby. Many women find they need to take naps or go to bed earlier than usual in the first few months of pregnancy.
Other common symptoms include:
• Breast tenderness or pain
• Headaches
• Heartburn or indigestion
• Constipation or diarrhea
• Mood swings
While these symptoms can be uncomfortable, they are usually not dangerous. However, there are a few health concerns that can arise during early pregnancy. One is ectopic pregnancy, which occurs when the fertilized egg implants outside the uterus, usually in the fallopian tube. This is a serious condition that requires immediate medical attention and can be life-threatening if left untreated. Another concern is molar pregnancy, which is when abnormal tissue grows in the uterus instead of a baby. This also requires treatment by a doctor.
In general, though, early pregnancy is a time of excitement and anticipation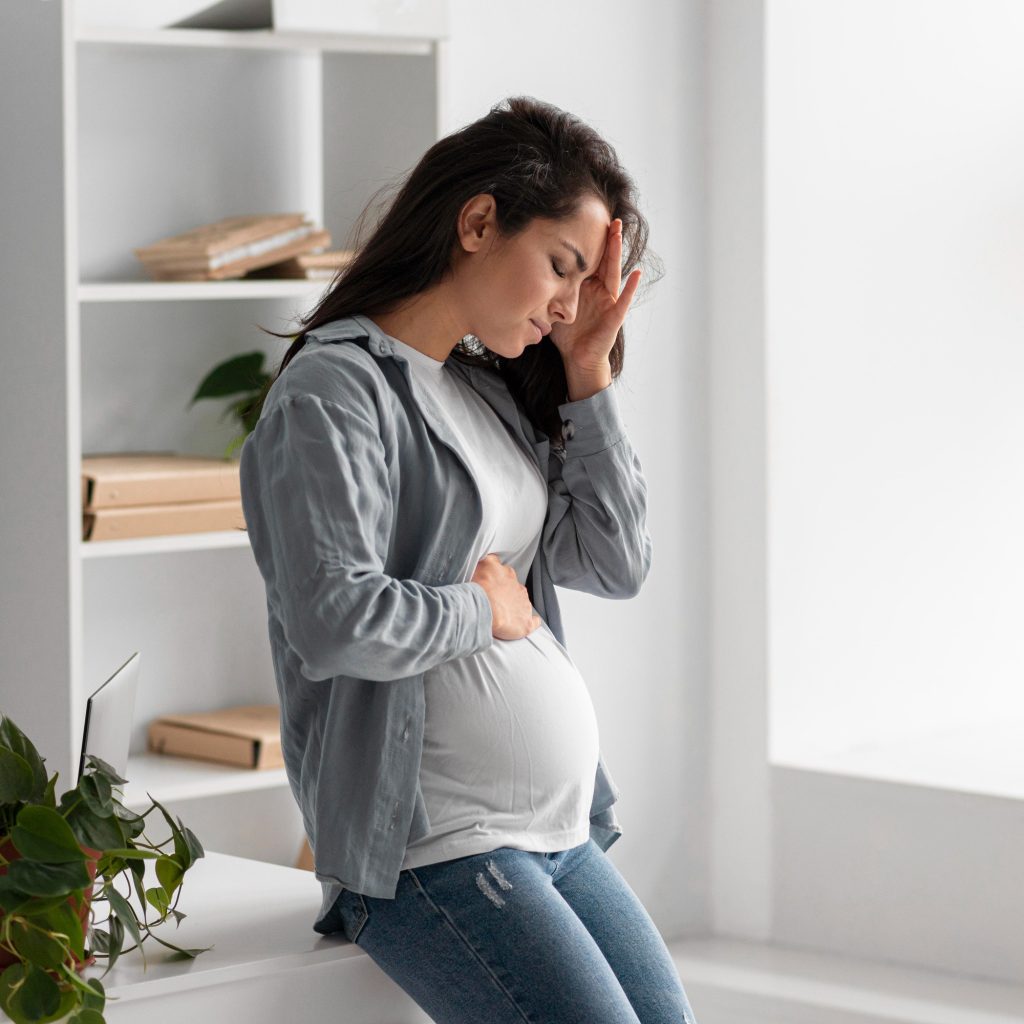 Preparing for Your First Pregnancy
If you're like most first-time moms, you're probably feeling a mix of excitement and apprehension about your upcoming pregnancy. While there's no way to predict exactly how your pregnancy will progress, there are some things you can do to help prepare yourself for the months ahead.
Here are some tips for preparing for your first pregnancy:
1. Learn as much as you can about what to expect. Read books, talk to friends who have been through it, and browse online resources. The more you know about what to expect, the less anxious you'll feel during your pregnancy.
2. Start making healthy lifestyle choices now. If you're not already eating a healthy diet and getting regular exercise, now is the time to start. Pregnancy is not the time to try and make major changes to your lifestyle, so it's best to get on track before you get pregnant.
3. Talk to your doctor about any concerns you have. If you have any questions or worries about your impending pregnancy, don't hesitate to bring them up with your doctor. They can help put your mind at ease and provide guidance on how to best care for yourself during pregnancy.
4. Make a plan for prenatal care. Once you know you're pregnant, it's important to make an appointment with a doctor or midwife as soon as possible. This will ensure that you receive the best possible care during your pregnancy.
5. Create a support network of family and friends
Coping Strategies for Dealing With the Ups and Downs of Early Pregnancy
It's normal to feel a range of emotions during pregnancy, from excitement and joy to anxiety and worry. Here are some coping strategies for dealing with the ups and downs of early pregnancy:
1. Talk to your partner or a trusted friend or family member about how you're feeling. It can be helpful to talk about your fears and concerns, as well as the things that are making you happy.
2. Write down your thoughts and feelings in a journal. This can be a great way to track your moods and emotions throughout pregnancy.
3. Stay active and eat healthy foods. Taking care of yourself physically can help you feel better emotionally.
4. Seek professional help if you're struggling to cope with your emotions. A therapist can provide support and guidance during this difficult time.
Tips for Staying Positive Throughout Your First Pregnancy
It's normal to feel a range of emotions during your first pregnancy – from excitement and joy to anxiety and fear. The key is to find ways to cope with the ups and downs so you can enjoy this special time. Here are some tips for staying positive throughout your first pregnancy:
1. Connect with other moms-to-be. It can be helpful to talk to other women who are going through the same thing as you. Join a prenatal yoga class, sign up for a Lamaze course, or join an online forum for pregnant women.
2. Stay active. Exercise is a great way to reduce stress and boost your mood. Taking a brisk walk, going for a swim, or practising some gentle yoga can all help you stay calm and focused during pregnancy.
3. Eat healthy foods. What you eat has a big impact on how you feel mentally and physically. Make sure to eat plenty of fruits, vegetables, whole grains, and lean protein to keep your energy levels up and your mood stable.
4. Get enough sleep. Sleep is crucial for both physical and mental health during pregnancy. Make sure to get at least 7-8 hours of sleep every night so you can function at your best during the day.
5. Take some time for yourself each day. Pregnancy can be overwhelming, so it's important to take some time each day just for yourself – even if it's just 10 minutes to read a book or take a relaxing
Resources and Support Systems Available for Moms During Early Pregnancy
If you're a first-time mom navigating the ups and downs of early pregnancy, know that you're not alone. There are many resources and support systems available to help you through this challenging time.
Your OB-GYN or midwife should be your first point of contact for any questions or concerns you have about your pregnancy. They can provide you with information and support throughout your pregnancy journey.
There are also many online resources available, such as websites, forums, and social media groups, where you can connect with other moms who are going through the same thing. These can be great places to get advice, share your experiences, and find support.
In addition, there are several organizations that offer programs and services specifically for pregnant women and new moms. These can include things like prenatal education classes, breastfeeding support groups, and parenting resource centers. Your local hospital or community health center may have some great programs to check out.
So don't hesitate to reach out for help when you need it. There are lots of people and resources available to support you during this exciting time!
Conclusion
Navigating early pregnancy as a first-time mom can be daunting and overwhelming. It's important to remember that it won't last forever, and there are coping strategies that you can use to get through this difficult time. Eat healthy meals, exercise regularly, take breaks when needed, talk to your partner or loved ones about how you feel, and seek professional help if necessary. By focusing on self-care and utilizing the tips outlined in this article, you will be better prepared for whatever challenges arise during your pregnancy journey!