Get over your pregnancy cravings by eating something nutritious. Pregnancy is a time when a woman's body goes through many changes, and it is important to maintain a healthy diet to support both the mother and the growing baby. Eating a nutritious diet during pregnancy is linked to good brain development and healthy birth weight, and can reduce the risk of many birth defects. There are some nutrients that are absolutely essential in a prenatal diet like protein, vitamins and minerals, healthy types of fat, complex carbohydrates, fibre, and fluids. In this blog, we will discuss exactly what you need to eat so that you keep getting these nutrients in abundance. Let's dive in and find out what these foods are!
Eat your Fruits and Vegetables
This might be the oldest of advice but you need to eat your fruits and vegetables as they are packed with essential vitamins, minerals, and fibre that help promote the mother's and baby's health during pregnancy. It is recommended that pregnant women eat at least five servings of fruits and vegetables daily. The key is to eat as many colours of fruits and vegetables as possible as it will ensure that you're consuming all the necessary vitamins and antioxidants. Make sure to eat especially dark green, leafy vegetables such as spinach and kale, are especially high in iron and folic acid, which are essential for the baby's growth and development.
Get that Fibre from Whole Grains
Whole grains such as brown rice, whole wheat bread, and oatmeal are great sources of fiber and nutrients that help maintain your energy levels and keep you feeling full. Whole grains are also rich in B vitamins, which are essential for the baby's brain development.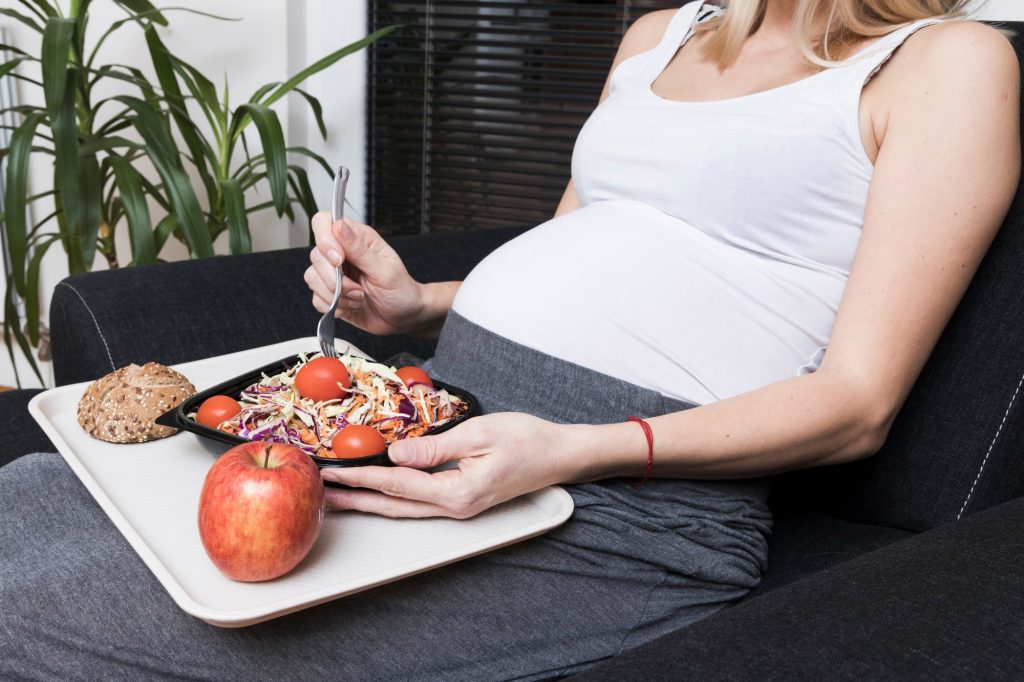 Lean Proteins all the way
Lean proteins such as fish, poultry, and lean meats are important for the baby's growth and development. Fish is an excellent source of omega-3 fatty acids, which help promote the baby's brain development. Pregnant women should aim to eat at least two servings of fish per week, including varieties such as salmon, sardines, and trout. Poultry and lean meats are also great sources of iron and protein, which helps prevent anemia in the mother and supports the baby's growth. If you're vegetarian or vegan, source your proteins from lean vegetarian sources like soybean, tofu, edamame, lentils, and beans (kidney, pinto, and black), etc.
Dairy Products
Dairy products such as milk, cheese, and yogurt are rich sources of calcium, protein and vitamin D — the nutrients that are considered essential for the optimal growth of the foetus. Pregnant women should aim to consume at least three servings of dairy products per day.
Legumes
Legumes such as lentils, chickpeas, and beans are great sources of protein, fibre, iron, and folate, which are all important nutrients during pregnancy. Legumes are also low in fat and can help maintain healthy blood sugar levels.
Nuts and Seeds
Nuts and seeds such as almonds, walnuts, chia seeds, and flax seeds are excellent sources of protein, healthy fats, and fibre. They are also a good source of vitamin E, which is important for the baby's brain development. Pregnant women should aim to consume a handful of nuts or seeds per day as a healthy snack.
Eggs
Eggs are versatile and a good source of protein, supplying amino acids that you and your baby require. They contain a variety of vitamins and minerals, including choline, which is beneficial to a baby's brain development. However, avoid eating raw or undercooked eggs to prevent the risk of infection from a bacteria called salmonella. Pregnant women are more at risk of infection from food poisoning, which can be caused by salmonella.
Water
Drinking plenty of water is essential during pregnancy to stay hydrated and to help prevent constipation. When you're pregnant, your body requires more water than usual to form amniotic fluid, produce extra blood, build new tissue, transport nutrients, improve digestion, and flush out wastes and toxins. Pregnant women should aim to drink at least 8-10 glasses of water per day to ensure proper foetal development.
In addition to the above foods, pregnant women should also aim to limit their intake of caffeine and alcohol, which can be harmful to the baby's development. It is also important to avoid raw or undercooked meat, fish, and eggs, as they can increase the risk of foodborne illnesses.
Conclusion
In conclusion, eating a balanced and nutritious diet during pregnancy is essential for the mother's and baby's health. It is important to include a variety of fruits, vegetables, whole grains, lean proteins, dairy products, legumes, nuts, seeds, eggs, and plenty of water. By eating a healthy diet, pregnant women can help ensure that they are getting the necessary nutrients for themselves and their growing baby.