It is common for moms-to-be to have feelings of anxiety during their pregnancy. They may stress about the well-being of their baby, stress about preparing for the baby's arrival, stress about their bodies, and stress about the changes in their body. Especially the hormonal changes during pregnancy can influence your mood and these mood swings can make dealing with stress even more difficult.
If stress persists during pregnancy, it can increase the chances of having a preterm baby (born before 37 weeks of pregnancy) or a low-birthweight baby (weight lower than 2 and a half kilograms). Babies who are born too soon or too small are at a higher risk of developing health problems. Increased stress not only puts the baby's health at risk but also the health of the mother. If a mother leads a life where she undergoes a lot of stress, chances are that she might develop health problems like high blood pressure and heart disease. These problems can also make pregnancy, a high-risk one.
While stress is a natural part of life, it is important to manage excessive levels of stress during pregnancy to ensure the health and well-being of both the mother and the baby. Now, let's explore some tips on how to manage stress during pregnancy.
Prioritize sleep
Getting a good night's sleep is essential for both physical and mental health, especially during pregnancy. As the body undergoes significant changes, getting enough rest is essential to cope with pregnancy demands. Sleep is absolutely essential for your body to carry out its vital bodily functions, like energy restoration, and allows the brain to process new information absorbed while awake. A well-rested mind and body are able to think clearly, concentrate on tasks, and process information better. So, Aim to get at least 7-9 hours of sleep each night and create a relaxing bedtime routine to help you fall asleep faster.
Exercise regularly
Regular exercise can help reduce stress and improve overall health during pregnancy. It is important to choose low-impact exercises, such as walking, swimming, or prenatal yoga, that are safe for pregnancy. Exercise also helps you sleep better at night. Consult with your doctor or a prenatal fitness specialist to create a customized exercise plan that suits your needs and abilities.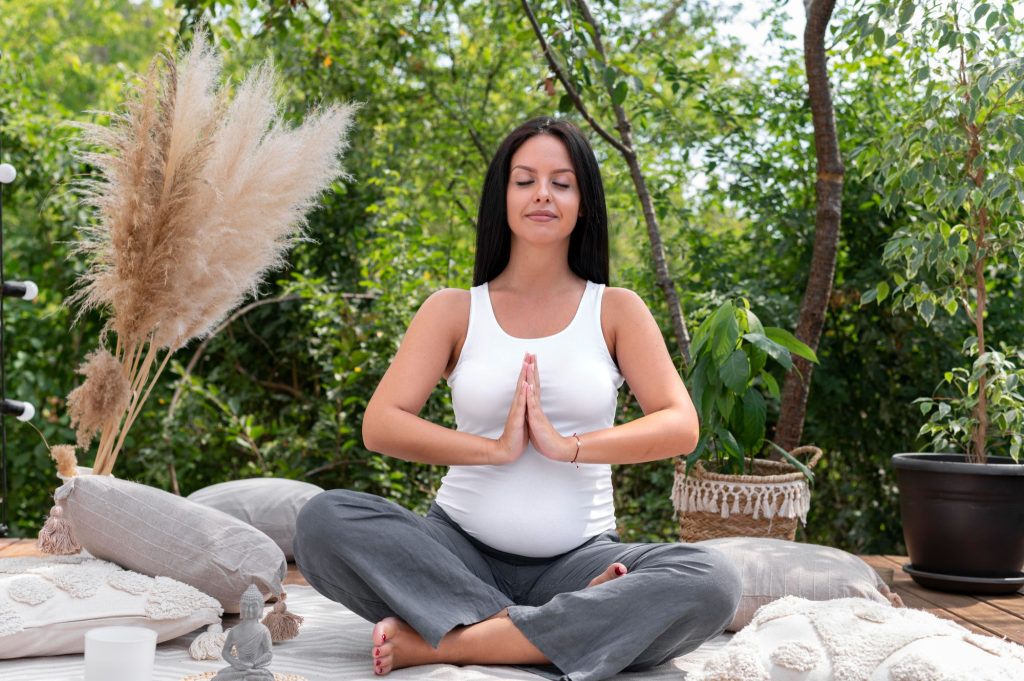 Practice relaxation techniques
Relaxation techniques, such as deep breathing, meditation, and visualization, can help reduce stress and promote a sense of calm. You can practice these techniques at home, during breaks at work, or even during prenatal appointments. Consider attending a prenatal yoga or meditation class to learn more about these techniques and to connect with other pregnant women.
Eat a balanced diet
A balanced diet that includes plenty of fruits, vegetables, whole grains, and lean proteins can help reduce stress and promote good health during pregnancy. Aim to eat several small meals throughout the day to keep your energy levels stable, and avoid foods that can trigger stress, such as caffeine, sugar, and processed foods.
Connect with others
Pregnancy can be an isolating time, so it is important to connect with others who can offer support and understanding. Consider joining a prenatal support group, attending childbirth education classes, or connecting with other pregnant women through social media. Talking to your partner, family, or friends can also be a great way to reduce stress and share your feelings.
Manage your workload
Pregnancy can be a busy time, but it is important to prioritize self-care and manage your workload to avoid feeling overwhelmed. Consider delegating tasks at work or at home, or talk to your employer about adjusting your workload or schedule to better suit your needs.
Seek professional help if needed
If you are experiencing significant stress or anxiety during pregnancy, it is important to seek professional help. Talk to your healthcare provider or a mental health professional who can offer support and treatment options, such as counseling or medication, if needed.
Takeaway
In conclusion, managing stress during pregnancy is essential for the health and well-being of both the mother and the developing baby. High levels of stress can negatively impact the pregnancy, leading to complications such as preterm labor, low birth weight, and developmental delays. However, by prioritizing sleep, exercise, relaxation techniques, a balanced diet, social connection, workload management, and professional help if needed, pregnant women can reduce stress and enjoy a more relaxed and fulfilling pregnancy experience.
It is important for pregnant women to be proactive in managing their stress levels, seeking help and support as needed, and prioritizing self-care. By taking steps to manage stress, women can promote a healthier pregnancy and set the stage for a positive birth and postpartum experience.