Thyroid hormones play a vital role in the baby's normal development during the first trimester and the nervous system throughout the pregnancy. By the end of the first trimester, the thyroid gland of the baby becomes active and starts producing hormones on its own but dependence on the mother is still observed. Therefore, it's important to monitor the levels of thyroid hormones during pregnancy.
Estrogen and human chorionic gonadotropin (hCG) may cause a significant rise in thyroid levels during pregnancy. A thorough check-up and proper tests help in the timely diagnosis of thyroid disorders.
A pre-existing condition of hypothyroidism orhyperthyroidism calls for extra care during pregnancy, especially during the first three months to keep the situation under control. In case you experience palpitations, marked loss of weight, or continuous vomiting, the doctor should be contacted at the earliest.Conditions like too much vomiting during the first trimester of pregnancy or molar pregnancy may also lead to hyperthyroidism and can be temporary or may seek medical intervention. Thyroid disorders, if not treated during pregnancy may cause premature birth, miscarriage, and low birth weight of the baby.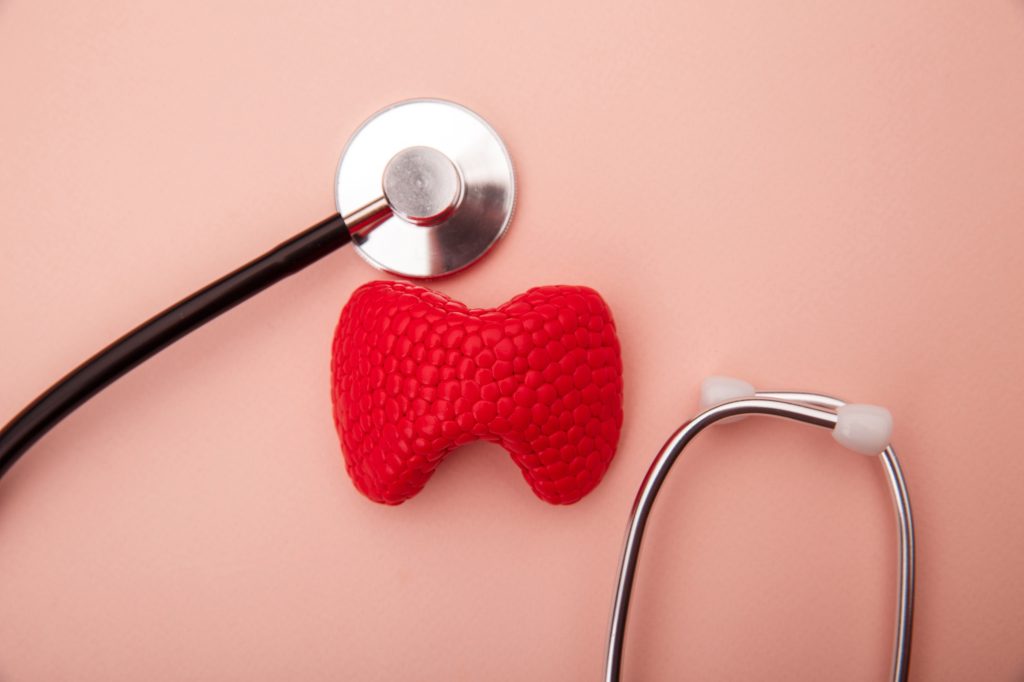 What to observe?
Hypothyroidism is reported more frequently during pregnancy when compared to hyperthyroidism. Some common symptoms noticed in thyroid disorders are mentioned as follows:
For Hypothyroidism:
Weakness
Gain in weight
Constipation
Restlessness
Difficulty in remembering
Cold sensitivity
Cramps in muscles
For Hyperthyroidism:
Palpitations
Heat sensitivity
Fatigue
Increased nervousness
Severe nausea or vomiting
Tremors
Sleeping difficulty
Loss of weight
What causes thyroid disorders during pregnancy?
Hypothyroidism: Hashimoto's thyroiditis is the most common cause of hypothyroidism. It is an autoimmune disorder. The cells of the thyroid gland are attacked resulting in lowered levels of thyroid hormones.
Hyperthyroidism: Graves' disease is the most common cause of maternal hyperthyroidism during pregnancy. It is an autoimmune disorder. Thyroid-stimulating immunoglobulin (TSI) is produced by the body in Graves' Disease. It is an antibody which results in increased production of thyroid hormone.
It is important to note here that TSI antibodies can be prepared in our body even after radioactive iodine treatment or thyroid removal surgery. In case the TSI level is too high, the antibody will reach the baby resulting in increased hormone production. Therefore, a regular check-up by your doctor is a must.
How to find out if you are suffering from thyroid disorder?
Thyroid disorders during pregnancy can be diagnosed by studying symptoms, performing a proper physical examination, and blood tests for measuring levels of thyroid-stimulating hormone (TSH) and the thyroid hormones (T4 and T3).
What to do in case you are suffering from a thyroid disorder during pregnancy?
It is advised to visit your physician and consult them so that they can either put you on treatment if required or else, taper your doses for the same. Apart from this, a healthy diet, exercise and an overall healthy lifestyle help in improving the situation at a faster rate. However, please do not self-medicate for thyroid or symptoms alone as it can put both, the mother's and the baby's health at risk.