Trying to transform your relationship with food? Want to be more aware of what you're eating? Turn to mindful eating!
Mindful eating is a concept founded on the Buddhist idea of mindfulness. Being mindful implies paying attention to the here and now while recognizing and embracing your feelings, thoughts, and physical sensations. Practising mindful eating works on the same foundation. Mindful eating entails paying more attention to both your food and your feelings towards it. It also includes the influence of what you eat on the outside world. Mindful eating assists in lowering disordered eating patterns and promoting weight loss by altering eating habits and lowering the stress associated with eating. Additionally, it teaches you how to differentiate between physical and emotional hunger.
Are you interested in practising mindful eating but unsure of how to go about it? These essential yet simple tips and tricks will sort you out!
Fill up Your Senses
Remove all distractions! Remember the last time you genuinely enjoyed your food and paid attention to what you were eating? Our attention is frequently diverted when we eat, whether it is to the TV, the pings of social media, a book, conversations or even our imaginations; when what we really should be doing is appreciating and honouring the food we are eating. Engage your sense of sight, smell and taste, take in the aromas and savour the flavours exploding in your mouth. With your ability to touch, and feel the textures of the food. Take a moment in between bites to reconnect with these senses.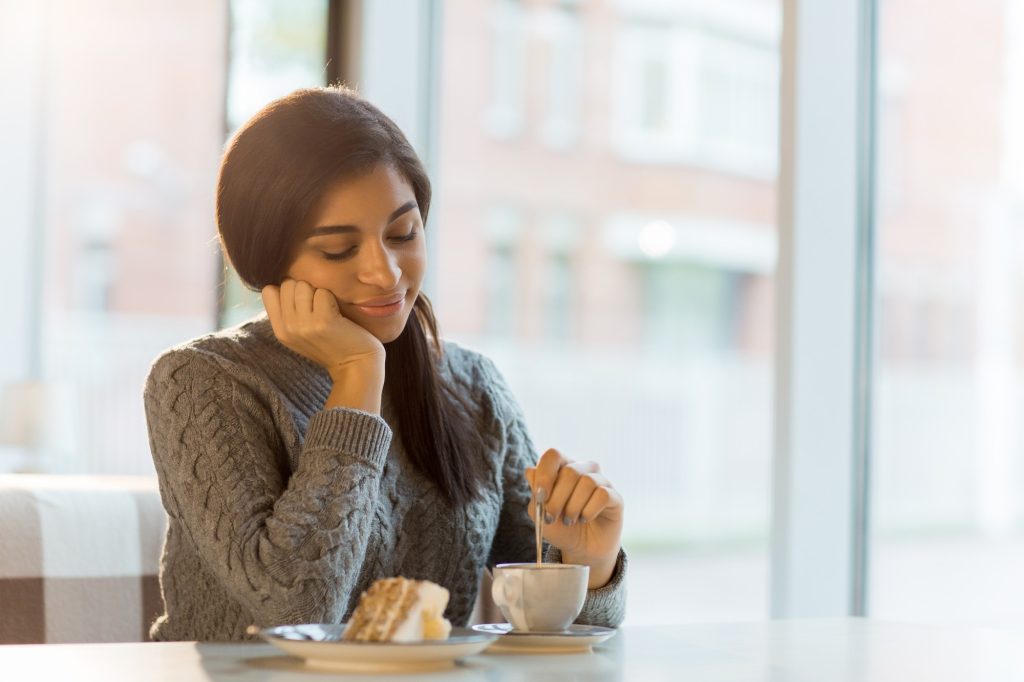 Serve Small
This method helps to gauge the feeling of fullness. As children, we are always encouraged to finish what we have on the plate and this develops a psychological block to finishing all the food even if physical signs tell us we are full. Hence, taking small serves will help us recognise and acknowledge stopping cues. According to a 2013 study, participants who practised mindful eating consumed smaller portions of food and lower calories overall, which resulted in the successful maintenance of a healthy weight and strict adherence to a fitness regimen. It could be beneficial to keep your plate to nine inches or less in size.
Eat Slowly
Don't rush your meals! According to studies, individuals who eat quickly are usually heavier and gain more weight over time than people who eat more slowly. Eating slower boosts the levels of the gut hormones that make you feel full, which may help you consume fewer calories. Chewing your food thoroughly makes you eat more slowly and consume fewer calories, which can help in losing weight. Chewing properly can also aid digestion. Count your chews. You might be shocked to learn how little you typically chew. An average adult should chew a bite at least 32 times!
Let your Appetite Build

But not too much! Don't skip meals and don't overindulge your hunger. Hence, you can't eat at the first sign of hunger and you can't wait for hunger pangs to begin. When you go too long without eating, you risk feeling extremely hungry, which could make you reach for the quickest, easiest, and least healthy option. These dangers can be decreased by scheduling meals for roughly the same time each day and taking ample time to enjoy a meal or snack.
Mindful eating is not a diet. However, it complements all dietary habits and you can benefit from the practice of mindful eating. According to research, mindful eating can improve one's psychological well-being, boost enjoyment when eating, and satisfy one's body. Combining nutritional knowledge with behavioural interventions like mindfulness training can result in healthy eating choices that lower the risk of chronic diseases, foster more enjoyable mealtime experiences, and support a positive body image.