46.3 million people, in the past year, qualified for suffering from some sort of substance abuse disorder. The numbers have only been growing, and with a relapse rate of 80-95%, one has to wonder if there are some relatively unexplored solutions that could improve the situation. While traditional methods of addiction recovery have been significantly successful, it has been pointed out that certain complementary therapies, like Yoga and Mindfulness, might just be what they need to make the approach towards addiction recovery, more holistic and long-lasting.
How do Yoga and Mindfulness help with addiction recovery?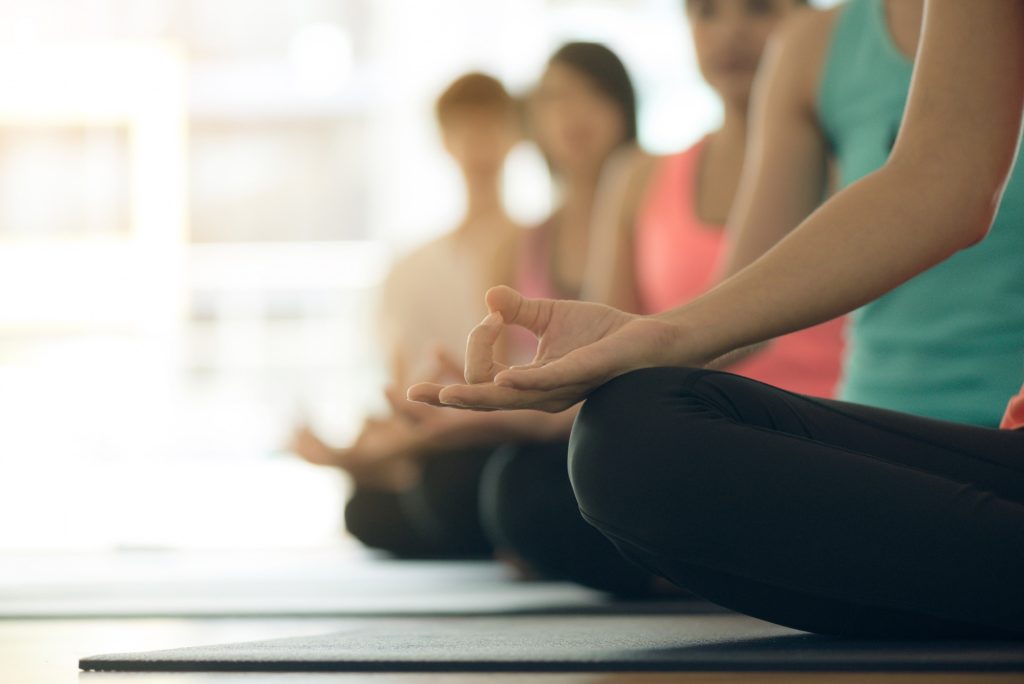 Studies indicate that incorporating various yoga & mindfulness meditation practices, can lead to benefits beyond physical fitness. Practitioners have reported a notable reduction in cortisol levels, of up to 31%, as a result of practicing integrated yoga.
There is substantial evidence suggesting that yoga and mindfulness practices can be effective in targeting multiple brain regions associated with addictive behaviors.
Stress is a significant causal factor in addiction, and yoga and mindfulness practices can address relapse by providing tools for managing stress, making the recovery process easier..
Similarly, yoga and mindfulness practices can aid in managing withdrawal symptoms, such as anxiety, insomnia, depression, and fatigue. By regulating cortisol and adrenaline levels, yoga can help to reduce stress, making individuals less likely to relapse.
The combined approach of yoga and mindfulness follows a mind-body approach that not only helps with physical pain, a significant contributor to relapse in opioid misuse, but also assists individuals in managing their mental health.
As previously noted, the practice of yoga and meditation requires individuals to be fully present and mindful of their thoughts. This increased self-awareness can aid in breaking the cycle of substance abuse by helping individuals recognize and confront the underlying causes of their addictive behaviors.

Benefits of Yoga and Mindfulness
Just on the off chance that you're still not convinced, here are some clinical research programs that showcase how beneficial mindfulness and yoga are for substance abuse recovery:
Mindfulness-Based Relapse Prevention for Alcohol and Illicit Substance Abuse: The primary goal of this program is to help people struggling with addiction deal with their uncomfortable emotions, by using mindfulness techniques. The MBRP model also includes gentle yoga practices to help alleviate the discomfort. The results of this program have indicated that mindfulness lowers the substance abuse rate by snapping the association between depressive moods and cravings.
The use of yoga practices was found to boost levels of gamma-aminobutyric acid (GABA), which the brain produces to assist manage anxiety and the stress response, according to a study published in the Journal of Alternative and Complementary Medicine.
Mindfulness-Oriented Recovery Enhancement: In this program, a psychoeducational intervention was designed to help with urges, by using techniques such as mindfulness breathing, body scan, mindfulness walks, etc. The result of the study was better than those of traditional methods, as it managed to decrease stress levels, rates of thought suppression, and increased physiological well-being.
The purpose of talking about yoga and mindfulness is not to negate the impact of traditional approaches to addiction recovery. It is to propose it as a promising practice, which if integrated along with the traditional approach, can do wonders for people suffering from substance use disorders. Yoga and Mindfulness, beyond all the particulars, discussed so far, in essence, equip the person to deal with the aftermath of consumption. It gives them support to make sense of their new realities and rebuild their foundations.