Smoking addiction is one of the most common and dangerous addictions in the world. It not only harms the smoker but also affects those around them. The harmful effects of smoking are well-documented, including an increased risk of lung cancer, heart disease, and stroke. Despite this, quitting smoking can be incredibly challenging, as it is a complex addiction that affects the mind, body, and social behaviour. Breaking the cycle of addiction requires a multi-faceted approach that addresses the physical, emotional, and psychological aspects of addiction.
We will discuss the power of positive self-talk, visualization, and mindfulness techniques to help smokers break the cycle of addiction. Whether you are a smoker struggling to quit or someone who wants to support a loved one in their quest to break the addiction, this blog will provide you with the information and tools you need to succeed. So join us on this journey, and let's break the cycle of smoking addiction together.
Find your motivation
The first step to breaking the smoking addiction is to find your motivation. Ask yourself why you want to quit smoking. Is it for your health? Your family? Your finances? Whatever your motivation, write it down and keep it in a visible place as a constant reminder. Once you have your motivation, create a quit plan. Set a quit date and stick to it. Tell your family and friends about your plan so that they can support you. Identify your triggers and develop strategies to avoid them. For example, if you usually smoke after meals, try going for a walk instead.
Consider nicotine replacement therapy
Nicotine replacement therapy (NRT) can be an effective way to break smoking addiction. NRT includes products like nicotine gum, patches, lozenges, and inhalers, which help reduce cravings and withdrawal symptoms. Talk to your doctor about which NRT product is right for you.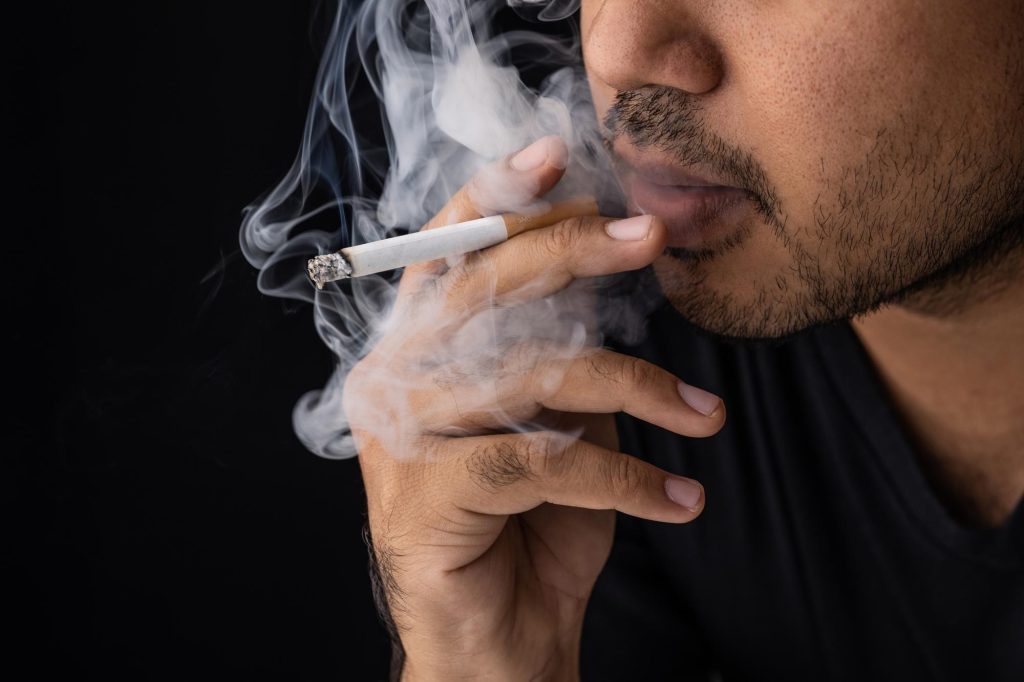 Exercise regularly
Exercise is a great way to reduce stress, improve your mood, and distract yourself from cravings. Aim for at least 30 minutes of physical activity each day. This can include anything from walking to yoga to weightlifting.
Eat a healthy diet
A healthy diet can help reduce cravings and improve your overall health. Having all the nutrients in your diet is important. Focus on eating plenty of fruits, vegetables, whole grains, and lean protein. Avoid sugary and processed foods, which can increase cravings.
Celebrate your progress
Breaking the smoking addiction is a major accomplishment. Celebrate your progress along the way, whether it's one day without smoking or one month. Treat yourself to something you enjoy, like a massage or a night out with friends.
Now for the cooler part, here are three psychological tricks and tips to break the cycle of addiction –
Mindfulness
Mindfulness is a technique that can help you become more aware of your thoughts, feelings, and behaviours. It involves paying attention to the present moment without judgment. When it comes to addiction, mindfulness can help you become more aware of your triggers and cravings. By noticing them without judgment, you can learn to respond to them more effectively. For example, if you feel a craving for a cigarette, you can acknowledge it without acting on it. Over time, mindfulness can help you break the cycle of addiction.
Self-talk
Self-talk is the internal dialogue that we have with ourselves. It can be positive or negative. When it comes to addiction, negative self-talk can be a major obstacle to breaking the cycle of addiction. For example, if you have a negative thought like "I'll never be able to quit smoking," it can be difficult to stay motivated. To break the cycle of addiction, try replacing negative self-talk with positive self-talk. For example, instead of saying "I'll never be able to quit smoking," say "I can quit smoking with the right mindset and support."
Visualization
Visualization is a technique that involves imagining a desired outcome. When it comes to addiction, visualization can help you see yourself as a non-smoker or someone who is in control of your addiction. By visualizing this outcome, you can create a mental image of what you want to achieve. This can help you stay motivated and focused on your goals. To use visualization, find a quiet place to sit and close your eyes. Imagine yourself as a non-smoker or someone who is in control of their addiction. See yourself living a healthy and fulfilling life. Repeat this visualization regularly to reinforce the desired outcome.
Conclusion
Breaking the smoking addiction is not easy, but it is possible. By finding your motivation, creating a quit plan, using nicotine replacement therapy, joining a support group, using technology, practising mindfulness, exercising regularly, eating a healthy diet, and celebrating your progress, you can successfully break the smoking addiction and lead a healthier life. Remember, it's never too late to quit smoking and improve your health and wellness.