Have you ever thought about the long-term effects of cigarette smoking? We all know that smoking is bad for our health, but have you ever wondered what happens to your body when you light up a cigarette? In this blog post, we will explore the long-term effects of cigarette smoking and what it can do to your body over time. From increased risk of cancer to damage to your respiratory system, we will dive into the science behind smoking and its impact on your health. Cigarette smoking has immediate and significant effects on the body, including both physical and psychological effects. These short-term effects can be experienced by both occasional and regular smokers.
Physical Effects
One of the most immediate physical effects of cigarette smoking is increased heart rate and blood pressure. Nicotine, the addictive substance in cigarettes, causes blood vessels to narrow, making it harder for blood to flow through them. This, in turn, causes the heart to work harder, leading to an increased heart rate and blood pressure.
Another common physical effect of cigarette smoking is shortness of breath. Smoking damages the cilia, which are the hair-like structures in the airways that help remove mucus and other particles. When the cilia are damaged, it becomes harder to clear the lungs of mucus and other irritants, leading to shortness of breath.
Smoking also affects the digestive system, causing nausea, vomiting, and diarrhoea. This is because smoking increases the production of stomach acid, which can irritate the lining of the stomach and intestines.
Psychological Effects
Cigarette smoking can also have significant psychological effects. Smoking can cause feelings of relaxation and pleasure, making it an appealing habit for many people. However, nicotine is a stimulant, and smoking can also cause feelings of anxiety, nervousness, and restlessness.
Withdrawal symptoms are also a common psychological effect of cigarette smoking. When a smoker tries to quit or goes without smoking for an extended period, they may experience symptoms such as irritability, difficulty concentrating, and cravings for cigarettes.
Cigarette smoking is a widespread habit that has devastating health effects. The short-term effects of smoking, such as bad breath and yellowed teeth, are well known. However, the long-term effects of smoking are much more severe and can cause serious health problems.
Cigarette Smoking and Cancer
Cigarette smoking is the leading cause of preventable cancer deaths worldwide. It is estimated that smoking causes 85% of lung cancer cases. However, smoking is also linked to several other types of cancer, including throat, mouth, bladder, pancreas, liver, kidney, and cervical cancer. The risk of developing cancer from smoking increases with the number of cigarettes smoked per day and the duration of smoking.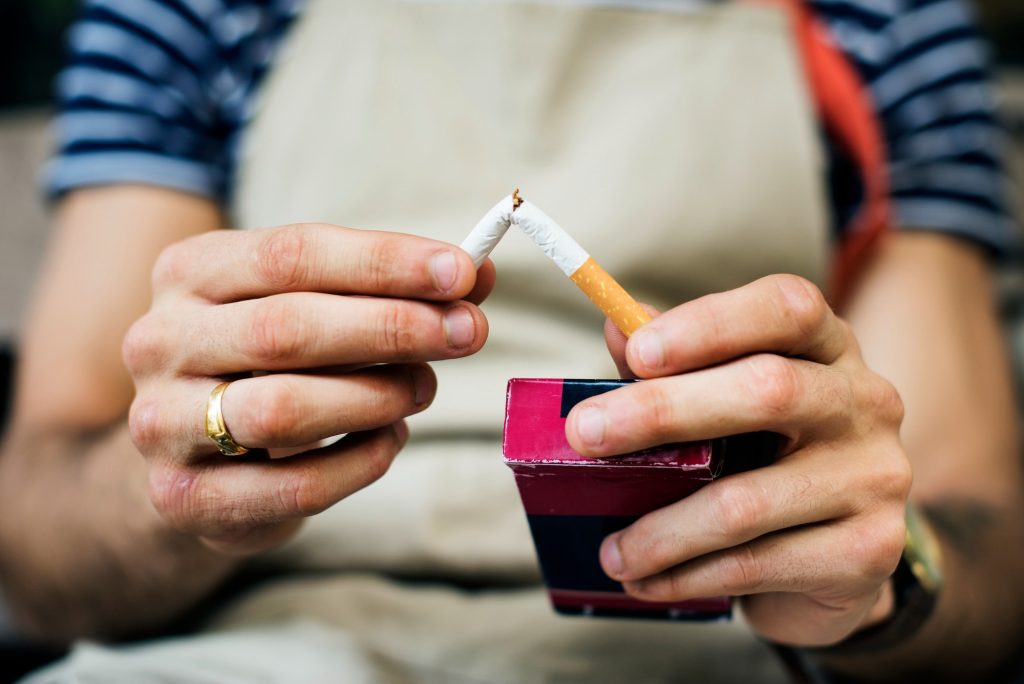 Cigarette Smoking and Respiratory Diseases
Smoking can cause a range of respiratory diseases, including chronic bronchitis, emphysema, and chronic obstructive pulmonary disease (COPD). Chronic bronchitis is a condition where the airways become inflamed and produce excess mucus, leading to coughing and difficulty breathing. Emphysema is a condition where the air sacs in the lungs are damaged, making it difficult to breathe. COPD is a combination of chronic bronchitis and emphysema and is a progressive disease that gets worse over time.
Cigarette Smoking and Cardiovascular Diseases
Smoking is a significant risk factor for cardiovascular diseases, including heart disease, stroke, and peripheral artery disease. The chemicals in cigarette smoke damage the lining of the arteries, leading to the buildup of plaque, which can narrow or block the arteries. Narrowed or blocked arteries can lead to heart attacks, strokes, and other cardiovascular diseases.
Cigarette Smoking and Reproductive Health
Smoking can have severe effects on reproductive health. In women, smoking can cause infertility, complications during pregnancy, premature birth, and low birth weight in newborns. In men, smoking can cause erectile dysfunction and decreased sperm count.
Cigarette Smoking and Mental Health
Smoking can have severe effects on mental health. Studies have shown that smokers are more likely to experience anxiety and depression than non-smokers. Nicotine, the addictive substance in cigarettes, can also affect mood and cause feelings of anxiety and irritability.
Cigarette Smoking and Aging
Smoking can accelerate the ageing process, leading to premature ageing of the skin and other signs of ageing. The chemicals in cigarette smoke can damage the collagen and elastin in the skin, leading to wrinkles and age spots. Smoking can also cause hair loss and yellowing of the teeth.
Quitting Smoking and Reversing the Damage
Quitting smoking is the best way to prevent the long-term health effects of smoking. Although some of the damage caused by smoking may be irreversible, quitting smoking can still have significant health benefits. Within a few weeks of quitting smoking, the risk of developing cardiovascular diseases begins to decrease. Within a few months, lung function begins to improve, and the risk of developing cancer begins to decrease.
Conclusion
Cigarette smoking has severe long-term health effects and is responsible for millions of preventable deaths worldwide. The long-term effects of smoking include cancer, respiratory diseases, cardiovascular diseases, reproductive health problems, and mental health issues. Quitting smoking is the best way to prevent the long-term effects of smoking and improve overall health. If you smoke, it's never too late to quit. Seek support from healthcare professionals, friends, and family to help you quit smoking for good.