Recovery from addiction is a difficult process that calls for a diverse strategy. Traditional treatments and support groups are essential, but diet also plays a critical role in fostering recovery and lowering the chance of relapse. In order to successfully overcome addiction, consuming the essential nutrients required for proper brain function, hormonal balance, and physical well-being is vital. In this article, we explore the importance of nutrition for addiction recovery, and how it can help manage withdrawal symptoms, improve mental health, and enhance overall wellness.
Nutrition and Substance Abuse
When one indulges in substance abuse, nutrition gets severely compromised and dietary habits get altered to a great extent. This could be due to a number of factors:
Many mind-altering substances alter how the body absorbs nutrients from meals, which is a problem. Even if a person consumes a generally healthy diet, drugs and alcohol can make it harder for the body to absorb nutrients.
Another reason why diet and nutrition get affected is that most of the money is spent on purchasing the said substance, due to which they spend less on food, thus causing undernutrition.
The treatment administered too can have a heavy impact on one's food habits and nutritional health.
Poor nutrition caused due to substance abuse can render severe effects. It could lead to body composition issues and deficiencies. Thus it is essential to consider what and how nutrition can help addiction recovery.
How does good nutrition help with addiction recovery?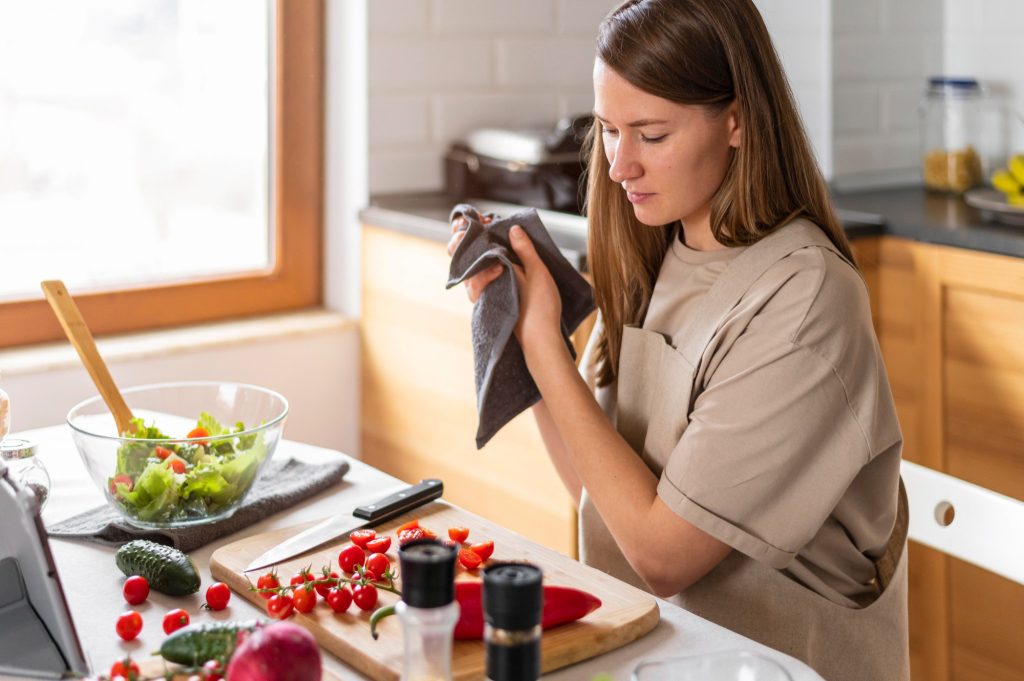 Studies have shown that over 88% of people recovering from substance abuse need to pay special attention to their diet. The habits of substance abuse may make one malnourished, thus a healthy diet is not only necessary but it helps with a lot of mental, physical, and emotional symptoms.
There are several ways in which a healthy diet can help with addiction recovery :
It can be the beginning of a healthy lifestyle
While you are fulfilling your body deficiencies, consciously making an effort to eat well, and at the proper time, you are getting more and more used to taking care of yourself. You learn how to healthily function in some ways, which were earlier extremely toxic.
Improve physical immunity:
Substance consumption has a very visible impact on one's physical health and a good diet helps you with all the deficiencies. It protects you against various illnesses that a person may be susceptible to if they are consuming any substance in copious amounts.
Reduce cravings
This does not happen overnight, not even over a week, but in the longer run, nourishing one's body helps one reduce the craving for alcohol, drugs, or other substances concerned here.
Mood Booster and Mental Health '
Addiction recovery can be a challenging journey, wherein you go through a lot, mentally. While a bowl of soup may not necessarily cure your problem but it can feel comforting. Thus keeping a good diet makes you feel more stabilized, while you are recovering.
How to maintain a healthy diet?
Now that we have established the importance of having a healthy diet, let us finally look at some ways you can ensure a good nutritious diet.
Meet a doctor or a nutritionist: Since addiction is a very sensitive scenario, self-made diets without any expert advice may not be the wisest choice. Addiction recovery is a lot about breaking habits and creating new ones, and this requires a plan. An expert will be able to diagnose the deficiencies better and devise a diet plan that is executable by the person.
Real Nutritious Food – While different diets have different approaches, many suggest that the best way to get nutrients during recovery is through natural sources rather than supplements. The diet should be rich in the nutrients and minerals required.
Meal Times – A common suggestion by almost all doctors, is to stick to meal times. This again works towards forming new healthy habits and training your body to absorb the nutrients better, an ability that may have been compromised due to substance consumption.
Don't skip on Hydration – Hydrating your body is equally important. One should skip all sorts of carbonated drinks, caffeine, and other packaged beverages. Adequate hydration, by consuming water, gives the body a solid frame to heal itself.
In a room full of treatments, diet is probably the quiet one. But like every quiet one, it wields more power than you can imagine. Thus one should take it seriously, as a healthy diet goes a long way. Apart from restoring the nutrients, it can help one maintain long-term sobriety and establish a healthy relationship with food.